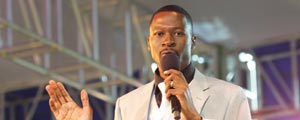 PROPHET Emmanuel Makandiwa, founder of United Family International Church, has been nominated one of the most influential Africans by renowned London-based pan-African magazine, New African. REPORT BY OWN CORRESPONDENT
In a 2012 edition of the survey the magazine has been carrying out since 2003, the publication said it recognised "the contribution of certain individuals in Africa's renewed drive towards development" and Prophet Makandiwa's name features on a list that includes business leaders, politicians, sports personalities and religious leaders who have contributed immensely to the development of the continent.
Contacted for comment, Makandiwa's spokesperson Pastor Prime Kufakunesu opted to be humble.
"Like the Prophet (Makandiwa) always says, what people are recognising here are not human efforts, but the work of Jesus Christ," he said, imploring Zimbabweans to take advantage "of the extraordinary anointing and gift of Prophet Makandiwa".
"It is unfortunate that this London-based paper can identify that Zimbabwe has a man of God of this magnitude yet we have some who choose to ignore," said Kufakunesu.
Makandiwa, a former pastor with Apostolic Faith Mission, broke away to establish one of the biggest churches in the world in terms of country population and denomination ratio.
His ministry takes care of more than 4 000 orphans and at least 3 500 widows daily, providing basic necessities such as shelter, food and payment of school fees for school going disadvantage children.