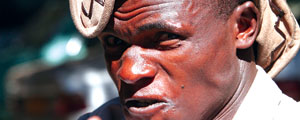 HARARE Las Vegas Sports Café DJs Nally and Limoluv bring their mixed bag of old skool and contemporary music to Mufakose tonight. Tomorrow Las Vegas presents Rhumba Night with hosts BV Labien Musica before Killa Sound hosts the dancehall session accompanied by the rehearsal for Las Vegas Dancehall Volume 1.
Jongwe Tavern Chamu Boroma, who claims to be son of the late Simon Chimbetu, plays at Jongwe Tarven tonight. He is still trying out his third album Mukwambo released last year.
Hwenje's Village Peter Moyo plays at Hwenje's tomorrow. The show is after his Friday show at Moonlight Night Club in Chitungwiza.
Miami Night Club Under the new management of Wayne "Musoro" Kembo, dendera musician Tryson Chimbetu will take his Marxist Brothers to Miami Night Club, Sunningdale 2, before rounding up his weekend at Mverechena Night Club in Domboshava on Saturday.
Andy Miller Hall Tonight Oliver Mtukudzi performs at the Andy Miller Hall. This could be a fête that might fit the repeat of the Last Gig held last year at the Glamis Arena to mark the end of 2012. The Superstar marshals Sulumani Chimbetu, Jah Prayzah and Munya Mataruse for the show.
Ligi Sports Bar Sulumani Chimbetu plays at Ligi Sports Bar tomorrow night. It is the first time that he plays at the venue and it is sure likely to be one memorable event after he proved himself to be a force to reckon with when he played at the Chitungwiza Aquatic Complex last weekend.
Khule's Bar Rising dendera star Douglas Chimbetu plays at Khule's Bar tonight. The spot has become one of his favourite as he has amassed significant support in the area. Tomorrow he engages comedian Freddy "Kapfupi" Manjalima for a gig at Mushandirapamwe Hotel, Highfield. He ends the weekend with a family show at Gijimani at Chirasavana, Seke. Boomerang Tafara
Alick Macheso plays at Boomerang Tafara tonight. He takes to Stoddart Hall, Mbare, tomorrow before finishing off the weekend with a family show at Harare Gardens on Sunday. He is supported by Progress Chipfumo for all three shows.
Club Illusion It's the Swag Saturday at Club Illusion tomorrow afternoon with the mix master DJ Flava Woogie back-to-back with DJ Booger the house master.
Hilltop Tavern Hilltop Tavern tonight plays host to Queen of Peace dancers. They make way for vibrant sungura artist Romeo Gasa tomorrow.
City Sports Bar Tonight it is the Drunkard Party of the Year with Sniper Storm leading DJs Ohms, Tripple, Lazy B and The Rock. At the same venue different arena will be the Rasta Night Mubako with DJs Stone, Zee and Turn Tables. Zoey takes over on Saturday with DJs Zee, Stone, Turn Tables and Archie on the controls. Banyana Bafana finishes off the weekend on Sunday.
Wadzanai Cocktail Bar (Shamva) Mafarochete Promotions has engaged the services of "The Young Igwe", Peter Moyo who will be entertaining revellers at Wadzanai Cocktail Bar in Shamva. He will be supported by Shamva-based Callisto Mukokera and his outfit Jetta Boys.
Pick & Save (Mutare) After Tuku's first gig, Jah Prayzah travels to Mutare for a show at Pick & Save. This is sure one not to miss for the Mutare folks as the young artiste is currently on top of his game.
Soul City (Mutare) Mutare's popular joint Soul City tomorrow presents Weekend Red and White Dance Party featuring the raunchy dancer Bev and the Sexy Angels. They will be supported by Mutare's top DJs including DJ Fresh and D-Mec.