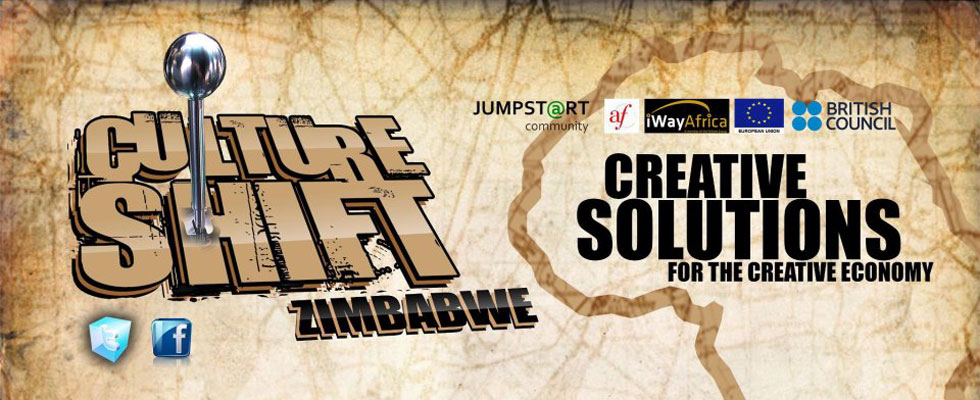 Zimbabwean artists have joined forces with technological experts to come up with innovations that serve as 'solutions' for Zimbabwe's creative sector.
Report by Cecilia Kamuputa
This was made possible by the British Council in conjunction with Internet Service Provider I-Way Africa, Alliance Francaise and Jump Start Zimbabwe through a series of events titled Culture Shift.
The event has been described as a hub for bringing together talented techies, passionate about art, culture and creativity as well as talented artists and cultural professionals or organizations interested in digital technology so they could come up with solutions to aid growth in the creative sector.
Culture Shift, which runs under the theme 'Creative Solutions for the Creative Industry' kicked off at Alliance Francaise in Harare with two days of idea generation from the 21st to the 22nd of February 2013.
The two days gave birth to six teams namely Good to Go, Zimbabwe Creatives, Big Eyes.com, Open Books, 2 degrees and Icreate.biz and all six made it through to the Culture Shift Hack which will run from March 5 to 7.
Those whose ideas the judges will see to be worthy of investment would then be invited, standing a chance to secure a contract worth $3,500 to develop their prototypes further.
In an interview with NewsDay prior to the event, Kudzayi Ngwerume, British Council's Arts Manager said even though there have been technology challenges in Zimbabwe before, Culture Shift is the first to focus entirely on finding solutions for the Creative Economy.
"The idea is that we will be able to allow entrepreneurs to bypass what are often the most inhibiting factors in the progression of good ideas –access to capital and business mentorship – thus allowing them to be better positioned to drive long-term development which are locally owned and initiated," said Ngwerume.
Heeten Bhagat, a talented film maker,  said the purpose of the event was not only to market existing art products but to also come up with new ones and market them.
Guests at the event during the two days of Ideation included British Council Country Director Jill Coates, Head of I-Way Africa, Nhena Nyagura and Mamvura Mabika, Director from the Ministry of the SMEs and Co-Operative Development.