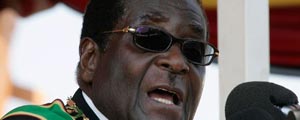 ROME — President Robert Mugabe slipped into Italy yesterday for the inauguration of Pope Francis and officials went to some lengths to play down the technical infringement of a European Union travel ban on Africa's oldest leader.
Reuters
Mugabe, who has been under the ban since 2002 because of allegations of vote-rigging and human rights abuses in Zimbabwe, was whisked straight from his plane to Rome airport terminal in a black van, together with his wife Grace, and bodyguards.
Although the airport is on Italian territory, the 89-year-old President was met by a priest who said: "On behalf of Pope Francis, welcome to the Vatican, welcome to the Holy See."
He was then taken to a hotel on the famous Via Veneto.
The Vatican says it did not issue invitations for the inauguration today of Pope Francis — Latin America's first pontiff — who was elected by a secret conclave last Wednesday. But representatives of world governments are welcome to attend.
"The Holy See informs everyone that this event is taking place. There are no invitations. There are no privileges and no one is refused. While one country may have problems with someone else, we invite no one. This must be made clear," a Vatican spokesperson said.
Hundreds of thousands of people are expected to cram St Peter's Square and surrounding streets for a mass today to formally instal Pope Francis as the new leader of the world's 1,2 billion Roman Catholics.
Mugabe, a conservative Catholic, visited Italy previously for the funeral of Pope John Paul II in 2005 and for ceremonies for his beatification in April 2011. In each case, Mugabe was permitted to travel through Italy to the Vatican, which as a separate State is not subject to the EU ban.
Mugabe has ruled Zimbabwe since independence in 1980 and has been accused of violence against his opponents and undermining the Cabinet and Parliament. Zimbabweans voted on Sunday on a new constitution curbing the presidency and reducing its length in future to two terms.
During his visit in 2005 for Pope John Paul's funeral, Mugabe caused embarrassment to the British government by shaking hands with a startled Prince Charles, the heir to Queen Elizabeth.
MDC-T says hundreds of its members have been killed by Mugabe's supporters.