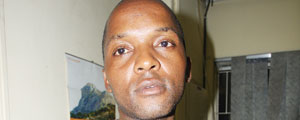 MDC-T youths yesterday allegedly assaulted Zimbabwe Independent journalist Herbert Moyo and barred him from covering a demonstration at Harvest House.
STAFF REPORTER
Moyo was covering a demonstration by the party's Sunningdale members over imposition of candidates in the constituency. The youths dragged Moyo inside Harvest House where they continued to beat him up.
He was only saved from further assault by a colleague who called MDC-T spokesperson Douglas Mwonzora and asked him to act on the matter.
A visibly shaken Moyo said: "I was covering a demonstration by people from Sunningdale who were protesting against the imposition of candidates in the constituency.
"Some people then approached me and asked why I was taking pictures and when I told them I was a journalist, they dragged me inside and I fell on the floor were they continued to beat me until my colleague phoned Mwonzora."
Zimbabwe Independent editor Dumisani Muleya said the attack on Moyo by a party that claimed to support media freedom was disgraceful.
"The assault of our reporter, Herbert Moyo by MDC-T members right inside the party's headquarters is an outrage that must be condemned in the strongest terms possible. Such acts of barbarity must not be tolerated in a civilised and democratic society," Muleya said.
"It is shocking and disgraceful that a journalist can be assaulted while trying to do his job by members of a party which claims to respect, embrace and uphold media freedom, among other democratic imperatives."
Muleya added that if the MDC-T wanted to be taken seriously as an enlightened and progressive party, then something had to be done about the assault.
"We urge MDC-T leader Prime Minister Morgan Tsvangirai to act on this issue and bring to account the cowardly perpetrators of this uncalled-for brutality," he said.
"As we approach the high stakes general elections in months ahead, we would like to urge political parties, their members and leaders to behave with restrain and desist from harassing, intimidating and attacking journalists doing their job."