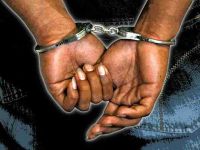 CHINHOYI — An alleged member of the dreaded Zanu PF militia, "Top Six", which has caused a reign of terror in previous elections in Mashonaland West province, has been arrested for murder.
Own Correspondent
Kevin Sakunana (34) of Chikonohono, Chinhoyi, was arrested at the weekend for allegedly fatally assaulting businessman and farmer Ephraime Makaza (49) of Angwa Farm, Chinhoyi.
His younger brother Richard (31), also wanted in connection with the murder, is still at large.
Mashonaland West police spokesperson Inspector Clemence Mabgweazara yesterday confirmed the murder and arrest of Kevin.
"Indeed, police have arrested Kevin and are hunting for his brother Richard in connection with murder," Mabgweazara said.
Police said on May 28 this year at Christos shopping centre, the suspects were playing snooker while the now deceased was drinking beer alone.
The two brothers allegedly asked Makaza to buy them beer, but he refused, resulting in a heated exchange of words which deteriorated into a fight.
The pair allegedly used fists and feet to severely assault Makaza who broke his leg and sustained injuries all over and was rushed to Chinhoyi Provincial Hospital for treatment.
Makaza was admitted on the day of the assault and later discharged, but was hospitalised three days later after complaining of severe pain.
On Friday, it was decided that he be transferred to Parirenyatwa Hospital in Harare after his condition continued to deteriorate, but he died on the way in the early hours of Saturday.
A post-mortem conducted on June 9 established that he died of lung injuries and bleeding from the thorax as a result of the beating.
Before the twist of events, an assault case had been reported at Chinhoyi Central Police Station which dispatched officers to the scene and later arrested the pair who then appeared in court facing the charge and were released on bail.
Makaza operated a butchery at the shopping centre where he was assaulted.