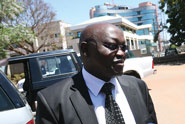 HARARE regional magistrate Clever Tsikwa has cancelled the warrant of arrest he had issued against prominent lawyer Jonathan Samukange, after the State consented they had erroneously applied for it.
REPORT BY SENIOR REPORTER
Samukange had been issued with a warrant of arrest after he allegedly failed to appear in court where he was expected to testify in a fraud case involving Harare businessman Vivek Solanki.
The warrant was cancelled on Tuesday after senior prosecutor Teddy Kamuriwo told the court that Michael Reza, who was prosecuting the case, had erred in making the application.
"Under the circumstances, the issue of the warrant of arrest becomes erroneous. It's unfortunate that the public prosecutor in question is in a difficult position, but I regret that it was an error made by the State," he said.
He said Reza had been furnished with proof of service that Samukange was appearing in another matter at the Namibian High Court.
Samukange was supposed to testify as witness in a case in which Solanki is accusing African Medical Investments (AMI) of defrauding him and illegally taking over AMI Hospital.