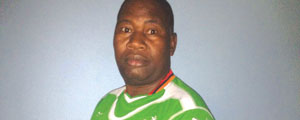 WITH the film industry in the country proving to be underpaying, a number of actors and actresses have taken to other ways of survival despite acting being their first priority.
Jairos Saunyama
First it was Lazarus Boora who is popularly known as Gringo who after rising to the the limelight through the Gringo drama series, he found himself becoming live advertiser at Shoppa Stoppa Supermarkets dotted across the capital.
Popular Studio 263 actor Hillary Indi turned into fashion and design while Timothy Tapfumanei of the Timmy Nabhonzo fame became a Financial Advisor at Old Mutual.
Likewise veteran actor Charles Jackson has found another role as an emcee at various functions. NewsDay recently caught up with the actor who played the role of Dhazimata in the drama Timmy Nabhonzo, at a wedding in Chitungwiza where he revealed his new job.
"An artist is not limited, but he is diversified. I found out that acting is no longer bringing food on my table and I thought of other things to survive.
"The film industry in this country is far behind and there are very few actors who are surviving through drama or film," said Jackson.
He said that because of his comic statements people have been hiring him at their weddings where he entertains the audience.
"I was born an entertainer and people hire me at their weddings and other functions where I do what I know best. Moreover, I do commercials for companies who want to advertise on radio," he said.
Jackson started acting at a tender age in Chitungwiza at Tangenhamo Primary School. He joined a drama club at Zengeza 4 High School where he met veteran broadcasters Lawrence Simbarashe who is popularly known as Bhonzo and Sam Sibanda who were scouting for talent.
He was then helped by Bhonzo to do his first commercial, a Softex advert on Radio Zimbabwe which was then Radio 2.
It was during this time when he also met Timmy who encouraged him to go for rehearsals and he passed the auditions which saw him playing the role of a police officer in the drama Upenyu Mutoro.
The drama marked his career as an actor before he featured in the popular Timmy Nabhonzo as Dhazimata.