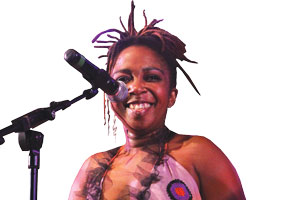 THE arts industry was plunged into mourning as condolence messages poured following the death of mbira maestro Chiwoniso Mararire at South Medical Hospital in Chitungwiza on Wednesday night.
REPORT BY TINASHE SIBANDA/SILENCE CHARUMBIRA
People from all walks of life, various organisations and artistes described Maraire's death as a great loss to the nation.
Zimbabwe Tourism Authority (ZTA) spokesperson Sugar Chagonda expressed sadness at the death of Maraire who was part of a group of musicians that composed the United Nations World Tourism Organisation (UNWTO) General Assembly theme song.
"We are deeply saddened by this development considering that she was set to be one of the headline acts for the upcoming UNWTO Tourism Night in August," Chagonda said.
Bassist Edith WeUtonga in her condolence message said: "Chiwoniso was a loving person and a legend that had put Zimbabwe on the world map musically thus she deserves to be called a heroine."
Artists for Democracy in Zimbabwe Trust in a statement said Chiwoniso's death came at a time the organisation was in the process of organising a peace concert where she and other peace ambassadors were supposed to perform to promote peace before, during and after the elections.
Author and motivational speaker Rabison Shumba, Chiwoniso's friend, said the arts industry had been plunged into mourning.
Several musicians took to the social media platforms – Facebook and Twitter — to pay their condolences.
"My deepest sympathy to family and friends of Chiwoniso Maraire. The music industry has lost a great icon and she will be missed by all," musician Audius Mtawarira wrote on his Facebook wall.
Singer Kudzai Sevenzo said: "Chiwoniso Maraire! A combination of voice and soul like that is found once in a lifetime. Gutted! May your beautiful soul rest in peace." Stand-up comedian Carl Joshua Ncube wrote: "Such beauty, such talent, such a great loss, we miss you so much. RIP Chiwoniso Maraire."
Zimbabwe National Editors' Forum chairperson Brian Mangwende also expressed shock at the death of Maraire. Maraire is survived by two daughters Chengeto (16) and Chiedza (13). Mourners are gathered at 19 Campbeltown Road, Bluff Hill, Harare. Funeral arrangements are yet to be announced.