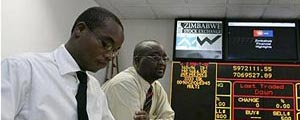 ZIMBABWE'S main stock index fell for the second day after President Robert Mugabe won re-election as uncertainty continues to grip the markets.
Report by Business Reporter
The dip comes on the back of a renewed push by Zanu PF to intensify the implementation of the indigenisation and empowerment law compelling foreign-owned companies operating in Zimbabwe to sell controlling stakes to locals.
MDC-T president Morgan Tsvangirai declared the re-election of President Mugabe as "null and void" throwing the country under international spotlight.
Barclays Bank of Zimbabwe, Zimbabwe's biggest bank by market value, plunged 20% to 44 cents, adding to yesterdays' 15%.
Heavyweights Delta and Innscor, which lost value on Monday, however, traded flat while Econet was 5,17% down.
The benchmark Zimbabwe Stock Exchange (ZSE) Industrial Index declined 1,72% after plummeting 11% yesterday.
The mining index fell by 4,09%.
ZSE chief executive officer Alban Chirume on Monday attributed the plunge to uncertainty surrounding the outcome of the election.
"The various political statements made have made players unsure about what the position is and brought in turbulence. The market may settle on the back of provision of direction," Chirume said.
Market watchers contend that confidence on the ZSE is expected to be restored once the elected Zanu PF party pushes for more economic reforms which attract foreign direct investment.