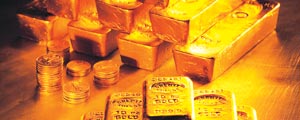 ANGLOGOLD Ashanti promised to cut more costs after it swung to a second-quarter loss, dragged lower by a plunging gold price that has forced it to reduce staff and scrap its quarterly dividend.
Reuters
Shares in the world's third-largest bullion producer by output were down almost 6% by midday on Wednesday after touching a more than 12-year low.
Gold prices have fallen by almost a quarter since January, the sharpest drop in a generation that has forced large miners from Barrick Gold to Newmont to write down the value of their assets.
AngloGold, whose operations stretch from South Africa and the Democratic Republic of Congo to Australia, had warned it would be forced to follow suit and took a $2,4 billion hit yestersday. Africa's largest gold producer also followed peers across the mining industry with promises of more cost cuts, including plans to shed 2 000 management jobs — about two-fifths of all non-mining roles.
Randgold Resources said on Wednesday it would cut costs and raise production over the rest of the year to counter plunging bullion prices which triggered a 62% slump in the African gold mining group's second-quarter profit.
"We've taken the decision to prepare our business for a volatile gold price environment," AngloGold chief executive Srinivasan Venkatakrishnan said.
Venkatakrishnan, a company veteran and former chief financial officer known as Venkat, was appointed to the top job in May, after his boss Mark Cutifani left to run diversified miner Anglo American. Venkat aims to more than halve 2014 corporate costs, helped by the job cut plans.
Spending on exploration for 2013 has also been more than halved.
Total cash costs — a measure closely watched in an industry that has seen costs soar over the past decade and remain stubbornly high – came in at $898 an ounce in the second quarter, in line with its target and just below the previous three months.
But Venkatakrishnan acknowledged that "all-in" costs — which would include $1 billion of capital primarily for its Tropicana and Kibali mines – would be "well above spot" prices, currently around $1 280 an ounce.
"If you look at a lot of the miners right now, a lot of their costs are almost close to the current gold price so a lot of producers are still going to struggle in this environment, especially with the very high cost structures that they have in place, said Paul Chakaduka, a trader at Global Trader in Johannesburg.
Like many South African miners, AngloGold has also been weighed down by rising costs and labour disputes at home.
The miner said it would cut marginal projects in South Africa, which accounts for around 40%  of its global output.