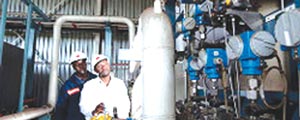 THE Zimbabwe Stock Exchange-listed mining concern Bindura Nickel Corporation has said its plans to raise a $5 million debt funding to finance Trojan Mine are on course despite liquidity constraints on the market.
Business Reporter
The mining concern in a statement yesterday said it has completed the internal review of the revised mine plan that will see the company targeting higher grade zones following the fall in nickel prices.
"The occurrence of the massives (nickel ore)  enables higher grade ore to be mined and thus reduces the cost per tonne of nickel produced.
"BNC management is already successfully applying the new mine plan at Trojan and is confident that the new plan will significantly improve BNC's cash flow and reduce its working capital requirements.
BNC is in the process of seeking debt finance from Zimbabwean banks for the reduced working capital requirement," the company said.
Commenting on the funding initiative, an official from the company said: "The reaction has been positive and has been quite good." The company has so far sold over 1 000 tonnes of nickel since April this year when it resumed production at Trojan.
BNC has been sourcing capital from local banks to fund its unit. The company has been struggling to secure funding and was foreseeing uncertainty as its future relied on the implementation of the revised production plan.
The company posted a loss of $12,9 million attributable to ordinary shareholders in the full year to March 2013 due to low turnover and high care maintenance costs.
BNC said $7,1 million for retrenchment costs was included in the loss for the year.
The group recorded a decrease in gross turnover of $1 million from $1,5 million in the prior year due to the sale of each alloy from the stock.
BNC resumed operations last year after investing $23 million in the company since the firm had been on care and maintenance for four years since 2008.