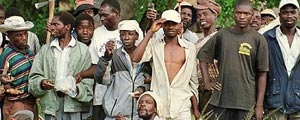 THOUSANDS of war veterans' children have reportedly dropped out of school after government failed to honour its mandate to pay their  tuition fees, the Zipra Veterans Trust has claimed. NQOBANI NDLOVU
The government resumed paying tuition fees for war veterans' children in 2009, years after it had suspended the exercise, following a downturn in the economy.
Zipra Veterans Trust chairperson Buster Magwizi told our Bulawayo Bureau that ex-combatants were angry with the government over its failure to pay tuition fees for their children for the past two terms.
"The money has been coming late, but for the past two terms, it never came and most children of war veterans failed to go to school as a result," he said.
"War veterans do not have the capacity to pay the tuition fees from the meagre monthly allowances they get from government."
The former freedom fighters receive $130 monthly in gratuities from the government, and according to Magwizi, the amount was too little and has seen most war veterans sink deeper into poverty, as the cost of living keeps rising.
Zimbabwe celebrated Heroes' Day on Monday and war veterans said the day marked the neglect they have suffered for years.
The war veterans claim poverty was stalking them and wanted their monthly allowances to be increased to as much as more than $500, in line with the poverty datum line.
Magwizi said the ex-combatants were angry with the government "for treating them like dirt and not respecting the sacrifices they made when they went to the bush" to fight the white colonialists.
Thousands of students under the government-sponsored cadetship scheme are also being barred from attending classes as State universities are refusing to register students due to non-payment of outstanding tuition fees by government.
Reports indicate some 50 000 students, expected soon to attend lessons at national tertiary institutions, have been barred from classes as they owed universities a combined $100 million.
Efforts to get a comment from officials at the Labour and Social Services ministry were fruitless.