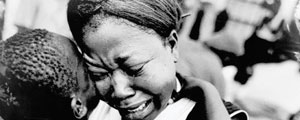 Shocking news that filtered in this week on Tuesday morning of Harare businessman Irvin Mereki, who allegedly committed suicide after killing his second wife, adds to a tragically long list of what has now become known as crimes of passion. BLESSED MHLANGA /WONAI MASVINGISE
The bodies of Mereki and that of his wife Clariss Chopamba were found lying prostate on their bedroom floor with gunshot wounds in their heads.
The circumstances that led to these deaths are believed to be a result of a love affair that went wrong.
According to Pamberi Trust, an Arts non-governmental organisation which promotes women's rights, there was a steady rise in crimes of passion. Pamberi Trust claims that such crimes have contributed a frightening percentage of murder cases reported in Zimbabwe. The organisation says one in every three women is a survivor of domestic violence while a shocking 60% of murder cases being heard before the High Court are generally motivated by crimes of passion. In most cases, these crimes are committed when acts of infidelity are discovered within a marriage or relationship. The enduring and high profile case of famous radio Disc Jockey Munya Malimo who stands accused of allegedly paying some hit men to kill a man suspected of having an affair with this wife, is also at the centre of crimes of passion. Chitungwiza Registrar- General Marriage officer Gordon Tsuro was taken to court and charged with attempted murder after he allegedly axed his wife in a domestic dispute. Lawyer Caroline Mugabe who has represented a number of people accused of battering their partners says most of them plead temporary insanity. "Most of these people plead temporary insanity which is fuelled by jealousy and rage, saying their sane side is completely dwarfed at the moment they discover the betrayal," she says. Olympic and Paralympic star Oscar Pistorius also joins this list as he faces a murder charge he must answer to allegedly shooting and killing his girlfriend Reeva Steenkamp. He stands accused of committing premeditated murder on Valentine's Day by firing four shots at Steenkamp with a 9mm pistol through a locked toilet door at his luxury home in Pretoria. Sociologist Darlington Nyabiko attributed the increase of infidelity in marriages to industrialisation which he said has destroyed our society's traditional extended family set-up. "These days the extended family has lost its function due to industrialisation," he said. Nyabiko said the extended family was our society's support system for marriages to last and this had been destroyed because many people had now moved into towns, destroying the traditional set-up. "As a result, marriages are disintegrating. We must reintroduce our traditional methods whereby people are socialised into the norms and values of their social systems which are tolerant to our cultural social structure," Nyabiko said. Fred Misi, the national chairperson of Varume Svinurai said women were generally to blame because they do not remain faithful to their spouses when they lose their source of livelihood. "First and foremost women must be content with what they have. "If a man gets retrenched you'll find that the wife will start cheating or even leave the man. Nowadays women are also working and you'll find that they will start having affairs at the workplace," Misi said. Misi added that men had a tendency to bottle up issues pertaining to infidelity because they do not know how to react when they discover that their spouses are cheating. "Conflict resolution in the home is practically impossible because extended families are now staying far apart. The other thing is that men do not have an emotional outlet so they end up being violent if they find their wives cheating. Unfortunately, someone may die, but even the Bible says sleeping with another man's wife is like taking a burning log and putting it on your chest," he said. Misi said that the Domestic Violence Council had recognised infidelity as the number one cause of domestic violence, especially by women. According to the 2010-11 Zimbabwe Demographic Health Survey released by the Zimbabwe National Statistics Agency, 30% of women have experienced physical violence at some point since the age of 15. The media has recently been awash with stories where aggrieved spouses mete out their own "justice" on cheating spouses increasingly leading to the death of one or both spouses and the third party in some instances. It has almost become acceptable in Zimbabwean society for married men to have a woman on the side commonly known as the "small house", but it is culturally taboo for a married woman to be caught cheating. Other famous Zimbabweans that have murdered their spouses in alleged love triangles include  Learnmore Jongwe the first spokesperson for the Zimbabwean Movement for Democratic Change Party and Member of Parliament for Kuwadzana. In July 2002, he confessed to having murdered his wife after finding her having sex with another man. He died in prison on October 24, 2002. Oliver Tengende, a famous wrestler shot his wife dead and then proceeded to shoot his in-laws at a house in Marlborough. Tengende then drove to a church in Mufakose and shot himself dead. Another prominent person Justin Chiota, a politician and founder president of the Zimbabwe People's Party (ZPP), killed his wife before committing suicide at his Morningside home in northern Johannesburg, South African. A crime of passion refers to a criminal act in which the perpetrator commits a crime, especially murder or assault against someone because of sudden strong impulse such as sudden rage rather than as a premeditated crime. A typical crime of passion might involve an aggressive pub-goer who assaults another guest following an argument. Most of these cases, however, involve a partner who discovers that his/her spouse is involved in another love affair. Enraged by this discovery, the spurned spouse proceeds to either brutally batter or even murder the philandering partner, including the other person involved in the love triangle.