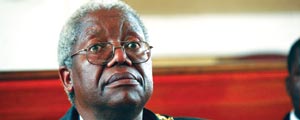 OUTGOING Harare mayor Muchadeyi Masunda's five-year term of office ended on July 31, paving way for the election of a new administration to run the affairs of the city. Report by Moses Matenga
NewsDay reporter Moses Matenga (ND) on Tuesday spoke to Masunda (MM) on his achievements during his tenure of office. Below are excerpts of the interview: ND: You served Harare as mayor for the last five years, did you manage to achieve the goals that you had set?
MM: We need to look at the whole issue contextually and say to ourselves what was in place when we went into office in July 2008. The place was run down, we had a staff complement of 11 887 workers and there were some ghost workers because a lot of people left the country on account of the politically induced socio-economic meltdown.
We managed to resuscitate some departments that had clearly become dysfunctional and within six months after coming into office, we had the responsibility of managing the water situation which had been taken away from the previous local authorities in 2005. When we took over the responsibility of supplying a hub of about 4,5 million people, the production of water from our two main water treatment plants, Morton Jaffray and Prince Edward, had plummeted to just under 200 megalitres a day, but by the time we had finished, we were producing on a good day, Zesa permitting, around 620 to 640 megalitres which is still a far cry, but that was a considerable accomplishment. I am proud to say that by the time we finished, we had established two polyclinics in addition to the 12 that we had and so the city now has 14 polyclinics that double up as maternity centres.
I managed to have a good rapport with the International Committee for Red Cross (ICRC) as well as Unicef because three quarters of our drugs at our two main hospitals, Beatrice Road Infectious Diseases Hospital and Wilkins, our 14 polyclinics and 32 primary health care centres, are financed by ICRC and Unicef. We also got support from the City of Munich that gave us 500 000 Euros and Help Germany that gave us 100 000 Euros that we used to buy medical supplies that kept us going for 18 months.
I think this is a big achievement.
There was also improvement in garbage collection with the financial assistance from BancABC. We engaged in road projects with the help of corporates like Lafarge, John Sisk and Sons Africa and there is a housing project underway in Budiriro out of the Old Mutual/Cabs housing scheme with 3 106 units using the $15 million Old Mutual made available, but the costs will be more than $15 million.
We had the Bill and Melinda Gates Foundation giving us $5 million to upgrade high-density areas like Mbare and Dzivarasekwa. Earlier this year, they made available a $20 million revolving loan facility for the poor members of the community. All in all, we mobilised $25 million which, by any standard, is a huge amount.
ND: What were the biggest challenges you faced as mayor and how did you overcome them?
MM: The challenges had more to do with the state of the economy because we came into office at the height of the politically induced socio-economic meltdown and ravages of the hyperinflationary environment which is a world record. It came as an immense relief in 2009 when the central government introduced a multicurrency system at the end of January 2009. At the advent of dollarisation, we had to write off the entire Zimbabwe dollar denominated debts and we started from scratch.
So it is a fallacy and totally untrue that we converted the Zimbabwe dollar denominated balances into US dollar. How could we do that in the absence of an agreed rate with our debtors?
We have created a brand new problem which is difficult to resolve and that is the proliferation of commuter omnibuses. If you go to Fourth Street, Copacabana, Market Square terminuses, there is unmitigated chaos there and even now, instead of having a normal shuttle you now have these privately owned unregistered imports from Japan operating private taxi services. These are issues we have to address vigorously.
The other area that has suffered is the emergency services division. We used to have 24 ambulances and we were down to six and now we have started refurbishing some with help of corporates like Lafarge, AON and Innscor. Of course, renowned local philanthropist Peter Lobel has donated four fire tenders and that is appreciated. That happened because of the historical links of our respective families.
ND: Do you think the international links you created for Harare will be maintained in the next council?
MM: That will depend on my successor as to what role he sees for himself, regionally, continentally and internationally, but I am proud to say that during my stint I put Harare, Zimbabwe and my continent on the world map because in October 2010 my peers in Africa elected me to represent the interest of their respective cities on the UCLG with its headquarters in Barcelona. I was elected to serve for three years. In Italy last year, I was awarded the coveted UN Habitat scroll of honour in recognition of what they called charismatic leadership and sticking to ethical governance during the years I was mayor. I was quite chaffed with that and I was the fourth or fifth individual in Africa to be awarded that scroll of honour.
I was roped in to serve on two advisory bodies under the UN Habitat, and now on advisory group for gender issues.
ND: Some are saying you were the favourite and correct candidate for the mayor's post because of your professionalism and business links in and around Zimbabwe, but you were punished by the MDC-T for not toeing their party line, how do you take that?
MM: I want to place on record my sincere gratitude to MDC-T leader Morgan Tsvangirai and the mainstream MDC-T for having given me this opportunity to serve as mayor, but following the outcome of the recent harmonised elections, it was obvious that they had to review the strategy and the way forward and given the fact that the mayor becomes the governor of Harare Metropolitan province. It made a lot of sense to look for somebody from within their party because it gives them a platform, a strong platform to prepare for the next election. I don't have to say this because I have said it so many times that I don't belong to any party and I wasn't pursuing any partisan issues. I endeavoured to the best of my ability to address issues as judiciously as possible with the intended beneficiaries at heart. What I endeavoured at any time was to do the right thing without fear or favour. So the party lines, whether Zanu PF, MDC-T or any other party, did not matter to me because I endeavoured only to do the right thing without fear or favour.
ND: Your advice on what needs to be done to get Harare working?
MM: People need to understand that Harare has paddled its own canoe and that situation is not going to change. So if they take heed for instance of this write-off of the debts, then they will rue that when we start seeing shortages of water treatment chemicals. This is not the time for electioneering and vote-catching gimmicks.
ND: Do you think the calibre of councillors at Town House can do justice to the demands and needs of the people?
MM: Out of the 46, 19 were retained and I think they got the exposure, the 19 will hit the ground running. On the 27 new councillors, I am not in a position to express their calibre, but there are others with capacity.
ND: If you are to get audience with President Robert Mugabe regarding the state of affairs at the local authority, what one thing would you tell him?
MM: One thing I would stress is that this country has an enviable track record when you look at what happened to other cities with the notable exception of Kenya and South Africa, some are in a mess across Africa. We have a jewel in terms of systems we have inherited. What is critical is to rebuild on what we build and not destroy and also the realisation that a city like Harare, we sit on a lot of idle assets. Those assets need to sweat to generate revenue so that we don't always look to increase rates.