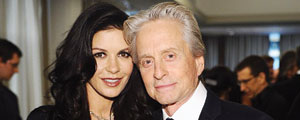 CATHERINE Zeta-Jones and Michael Douglas are taking a break from their marriage.
CNN
A rep for Zeta-Jones confirmed to CNN  that the Hollywood power couple are in the middle of "evaluating" their relationship.
"Catherine and Michael are taking some time apart to evaluate and work on their marriage," the rep said, declining to offer further comment.
Zeta-Jones and Douglas tied the knot in November 2000 and have stuck together through sickness and health. Douglas (68) was diagnosed with cancer in 2010, and he's said that Zeta-Jones held strong throughout his treatment.
But after Douglas overcame his illness in 2011, it was his turn to take care of his spouse, who checked herself into a mental health facility to receive treatment for bipolar II disorder.
In April 2013, the 43-year-old actress again sought treatment. According to People magazine, Douglas and Zeta-Jones decided to spend some time apart the following month, after Douglas returned from the Cannes Film Festival.
Neither celebrity has moved to file for divorce or a legal separation, and a source close to the couple calls their separation "a break".
Douglas and Zeta-Jones have two children together, 13-year-old Dylan and 10-year-old Carys.
"They want the best for their kids, no matter what happens," an unnamed family friend told People.