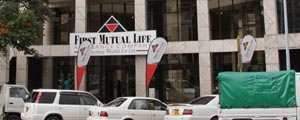 Zimbabwe Stock Exchange-listed insurance concern First Mutual Holdings Limited posted a 38% decline in profit after tax to $2,4 million from $3,9 million for the first six months of the year due to high claims ratios for various insurance businesses.
Report by Victoria Mtomba
During the six-month period claims for FMHL surged by 34% to $23 million resulting in total expenses amounting to $48,2 million.
"The incidence of claims was particularly high in the health care business," the company said in a statement.
The company's chief executive officer Douglas Hoto said the group incurred an impairment loss of $2 million relating to the carrying amount of the investment in Rainbow Tourism Group showing a decline in the market value of the investment.
"We took a prudent view of the value of our investment in a write down of $2 million. We also said that claims from rhetoric health business were higher than expected, but plans are in place to manage that," Hoto said.
Gross premium income for the group was up 16% to $52,2 million with the life assurance and medical insurance businesses contributing $33,7 million while short-term insurance and reinsurance businesses contributed $18,5 million.
Hoto said the transformation of the company will take three years and will reposition the company to be among the top ones in the sector.
He said cost control will continue in the second half of the year.
"Cash has been reduced and it's a sign that we should be braced to operate in a market with tight liquidity conditions," he said.
He added that the company was engaging regional partners to equip FMHL with knowledge.
"We are engaging regional investors to supply us with technical knowledge in insurance so that we can compete with other big players. I cannot disclose the name of the partners at this point in time," Hoto said.
The group said during the first six months of this year economic growth was subdued due to liquidity constraints that resulted in weak aggregate demand and high borrowing costs while interest rates remained flat in the absence of material changes in the liquidity crisis.
Meanwhile, Hoto said the company will launch the e-fml cover plan soon with plans already underway to introduce the product to the customers.
The e-fml cover plan is a product that allows people who are on various telecommunications networks to subscriber for life cover and pay premiums.