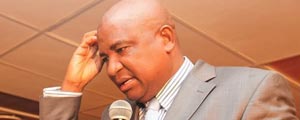 HARARE businessperson Phillip Chiyangwa has taken the Ministry of Lands and Rural Resettlement to the Supreme Court seeking an order compelling government to compensate him for the land which was compulsorily acquired from him by the State in April 2010.
BY CHARLES LAITON
Chiyangwa, who is the owner of Pinnacle Holdings and Jetmaster Properties, lost part of his Nyanguru Farm and Subdivision 'A' of Stoneridge to the State after the latter, through the Administrative Court, ordered housing co-operatives to continue occupying and developing the land.
Yesterday, the matter could not be heard at the Supreme Court after Chiyangwa's lawyer Advocate Lewis Uriri sought postponement of the case to allow him and the State's counsel Nelson Mutsonziwa to file further documents.
Uriri told the court that the matter would be heard in terms of the new Constitution. He said the new Constitution provided that the matters that were pending before the effective date of the new Constitution have to be heard as if the Constitution was in place when the matters commenced.
"Section 71 of the new Constitution, firstly deals with the question of reasonable necessity and public interest. It also deals with acquisition against property and adequate compensation or alternatively compensation soon after acquisition," Uriri said.
Deputy Chief Justice Luke Malaba, who was sitting together with Justices Paddington Garwe and Antonia Guvava, postponed the matter sine die following Uriri's request.
The compulsory acquisition of the 780 hectare piece of land for development of low-cost housing was confirmed by the Administrative Court sometime in 2011, allowing
co-operatives already allocated land at the site to continue their housing projects.
The ruling by Administrative Court senior president Herbert Mandeya stopped the eviction of more than 500 members of Chimurenga Pungwe Housing Co-operative who had taken occupation of the properties.