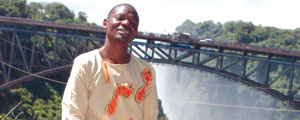 PERFORMANCE poet, mbira teacher and player and disability advocate Trust Mutekwa, aka Ticha Muzavazi, is a schoolteacher in his seventh year of imparting art skills like acting, story-telling, drawing, painting, textile printing and designing, as well as mbira and marimba playing, to children with disabilities.
Tinashe Sibanda
Currently based at St Giles Special School in Harare, he is the school's arts director and has worked with the school's mbira club to perform at various platforms which include international days' commemorations, arts festivals, musical concerts and private functions.
With his help, in 2010, the children recorded an eight-track musical with the mbira and launched it on the commemorations of the United Nations International Day of Persons with Disabilities.
Ticha Muzavazi is working towards establishing a vibrant annual arts event for children and adult artists with disabilities; he is the founding director-coordinator of the Special Schools Arts Festival which enters its third edition in 2014.
He has so far worked towards equipping seven special schools with material (musical instruments, fabric and dyes) they require in their arts departments and these schools will receive these items at this year's commemorations of the International Day of Persons with Disabilities on December 3.
"In 1997, I strongly felt like I wanted to be a teacher for children with disabilities, but somehow, time went by and I almost forgot about it until someone reminded me of that plan later in 2010," Muzavazi said.
At the time of the awakening, he had already studied and qualified to be a teacher in 2001.
He said there was a component of special needs education in the teacher's education and he continuously felt compelled to be one of the few teachers who would be able to cater for those children described as slow learners.
However, it was impossible to train as a special educator or work with children in special settings soon after the initial training because of the restrictive trends in the education system.
Consequently, in his second year of practice he applied for special needs educator training and in the third year was called for an interview which he missed.
"Although having missed the interview that would have made me a teacher for the deaf, my mbira passion led me to a man who had me setting my sights on being a teacher for the blind," he said.
"He taught me Grade One Braille, which is basically a Braille alphabet, and I taught myself Grade Two Braille through a book I had acquired from a University of Zimbabwe student. I became proficient in Braille in 2005 and offered voluntary Braille transcription services at the university's Disability Resource Centre."
In 2006, Muzavazi joined eleven other students who aspired to be teachers for the blind. During the training he went to St Giles Special School for the practical section of his course and suddenly fell in love with the setting at the school.
"I sought to work with the children at St. Giles soon after my training and fortunately, fate allowed me that chance when schools opened in 2008," Muzavazi added.
He said the children determinedly exhibited talent and skill in various art forms which their challenges and abilities could allow thus it pushed him to lead them and this has, over the years, resulted in their participation at various platforms including the international days' commemorations, arts festivals, musical concerts and private functions until today.
Muzavazi said over the years, parents, educators, disability pressure groups, policymakers, media and the general public have played a pivotal role in influencing a transformation in the lives and future of children with disabilities. He said most people did not seem to take notice of the many testimonies that proved disability was not inability in local environments as they often expressed shock if they witnessed any sign of ability.
"We have children who are physically challenged in schools and we do not bother to check their proficiency in particular areas of special educational needs. Instead, we encourage the teachers to babysit and approach the children's learning with pity."
He said while some parents were proud of their children with disabilities, others had the tendency of being in denial until the children were delayed in receiving support services they require.
Muzavazi said except for the few pupils who excel in academics, the industry had not indicated willingness to employ persons with disabilities, thus, he felt the portfolio on vocational and psycho-motor activities was the step needed, particularly in the disability sector where they struggle to achieve 50% passes in academic subjects.
He said the local media ought to be applauded for fairly covering disability issues and including a disability category in media awards.
"When I take children with disabilities to commemorations like the Women's Day, the Day of the African Child, Harare International Festival of Arts, Zimbabwe International Book Fair, musical concerts at the College of Music and engage them in mbira exchange programmes with mainstream Harare schools, it says a lot about our people's changing attitudes towards disability."