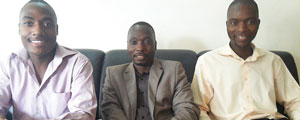 POPULAR apostolic choral group Vabati VaJehovah are riding high on success following the new seven–track album titled Zororo Kumatenga.
Jairos Saunyama,Own Correspondent
The album that is laden with soothing apostolic choral music is the group's 14th album.
Zororo Kumatenga, which is already making waves on local radio stations, demonstrates that Vabati VaJehovah is maturing with age, as this album was properly arranged.
This also means the 12-member group is the most loyal outfit as they have never starved their legion of fans after releasing 14 albums since their inception 14 years ago.
Richard Magaya, one of the longest serving members said he is happy that the group is still going strong despite challenges that have seen many choral groups collapse on the way.
"The album is being well received by gospel music fans and I can say that we are maintaining our legacy because we are very loyal to our fans. We make sure that every year our fans have something new from us.
"Apostolic choral music is slowly fading away because most of the groups are only after making money, unlike those who sing to spread the word of God and nothing else," he said.
Songs on the new album that was launched last week at Rugare Faith Apostolic Church in Kuwadzana include Baba Wedu, Zororo Kumatenga, Mutitungamirire and Munoita Minana among others.
Vabati VaJehovah has lost a number of its founding members through death, but they have managed to engage new and diverse audiences.
The group was formed in 1999 and released the album Mweya Mutsvene WaMwari.
Unfortunately, three of its founders Wiseman Magaya, Timothy Magaya and Madzibaba Khumbulani died between 2007 and 2011.
The group made history following their maiden appearance at the Harare International Festival of Arts in 2010.
They have also won National Arts and Merits awards with the latest being Zimpraise Legendary award they received last year.