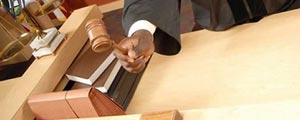 ONE of the two Murehwa sisters who crushed their brother's head to a pulp with a hammer following a domestic dispute, was yesterday slapped with a 10-year-jail term for murder.
CHARLES LAITON,SENIOR COURT REPORTER
High Court judge Justice Samuel Kudya found Elizabeth Nyarungwe guilty of murder with constructive intent while her sibling Theresa was convicted of a lesser charge of assault and jailed 18 months.
Elizabeth will, however, serve an effective ten-year prison term while her sister had her prison term wholly suspended for three years on condition of good behaviour.
The court heard that the two siblings teamed up with Elizabeth's boyfriend Proud Michael, and crushed Hardson Nyarungwe's head accusing him of breaking their door. The incident happened three years ago, but one of the suspects, Michael, later died in remand prison before trial.
State counsel Beaven Murevanhema told the court that soon after committing the crime the trio, acting in connivance, filed a false police report claiming their brother had been attacked by unidentified assailants.
The court heard that on the fateful night Hardson arrived home around 9pm and entered his bedroom.
Elizabeth and Michael immediately confronted him demanding to know why he had broken her door.
A verbal showdown broke out and later degenerated into a fistfight.
Justice Kudya heard that the pair tied Hardson's hands with a piece of wire and beat him up until he fell unconscious and crushed his head with a hammer.
To cover up for the offence, they took Hardson's body into his bedroom before making a false murder report.
A medical examination report produced in court indicated that Hardson died of internal blood clotting and a depressed skull fracture.