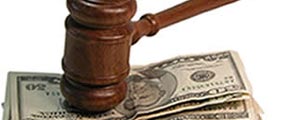 DAVID Muramba, a messenger with a Harare accounting company has been jailed for eight years for defrauding his employer of $164 000 through the use of fake receipts. PHILLIP CHIDAVAENZI, SENIOR REPORTER
Muramba (37), who was sentenced last Friday will, however, serve an effective two-year jail term after regional magistrate Simon Rogers Kachambwa slashed two years of the sentence on condition of good behaviour and set aside the other four years on condition he paid $164 723 restitution by August 31 next year.
In his ruling, Kachambwa dismissed Muramba's claims that he was a victim of circumstances.
"He is not a victim of circumstances as he would want the court to believe. Fake and genuine receipts and other documents were compared and there was a notable difference. The accused person adopted one modus operandi to defraud his employer," he said.
The court noted that Muramba had become a serial fraudster who knew no boundaries and ruled that he had himself to blame for his woes.
"If any one person exists who the accused wishes to blame, it is himself who sought enrichment at other people's expense," Kachambwa observed.
The court heard during trial that between May 2009 and July last year Muramba defrauded his employer 107 times by misrepresenting to Nyasha Kayo, the director of Accounting and Executors (Pvt) Ltd, that he was submitting the annual returns of various companies to the Registrar of Companies.
On several dates, he handled annual returns files for various clients and raised requisitions. The funds were withdrawn from the bank by the administrator who handed them to the accused.
Muramba, however, did not transmit the money, but generated fake receipts and fraudulently receipted the money.
The offence surfaced when one of the company's clients, one Peter Valentine, visited the Registrar of Companies to collect his company's documents since he was appearing in court on a different matter.
Valentine was advised that his annual returns were not paid up.
He then notified Accounting and Executors (Pvt) Ltd, which subsequently carried out investigations. It was then discovered that all the receipts submitted by Muramba were fraudulent.
A report was made to the police, leading to his arrest.