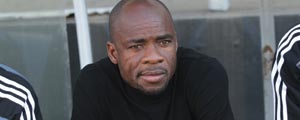 HIGHLANDERS legend Peter "Oxo" Nkomo has bounced back at the Bulawayo giants' technical department replacing goalkeepers' coach Tembo Chuma while assistant coach Bekithemba "Super" Ndlovu's contract has not been renewed and has been replaced by Mark Mathe.
REPORT BY SUKOLUHLE MTHETHWA SPORTS REPORTER
Head coach Kelvin Kaindu has been offered a two-year deal while Nkomo and Mathe have been offered one-year deals.
Welfare manager Willard Mashinkila-Khumalo has retained his post while the club has also brought in Vezigama Dlodlo as a kit manager.
Club chairman Peter Dube confirmed the development to Southern Eye Sport yesterday.
"Kaindu has retained his position as head coach on a two-year contract. He will be assisted by Mark Mathe who has been our developmental coach as well as Peter Nkomo who comes in as a goalkeepers' coach.
"The contracts of Bekithemba Ndlovu and (Tembo) Chuma have not been extended. We are guided by many aspects because an organisation has a system of reviewing people and appraisals on their performances. They have not performed badly, but we are looking at the interests of the club and how best we can tap the human resources available in our football fraternity," he said.
On the appointment of Nkomo and Mathe Dube said: "Kaindu wanted to know who he will be working with. In our appointments, we considered the future of the club and what will take the club forward. We are not trying to be vindictive and we do not make personal decisions, but what is of the interest to the club," said Dube.
The other appointments include that of Melusi "Mabaleka" Sibanda who will be in charge of the Highlanders Division Two side while Smart Moyo remains in the junior teams.
Dumaza Dube, Gift Lunga Junior and Dan Ngwenya will take charge of the Under-14,16 and 18 teams.
Dube said Dumaza will be in charge of all the coaching and grooming of the junior teams.
On the appointment of Dlodlo as kit manager Dube said it is necessary to have someone in charge of the kits.
"Dlodlo is coming in a kit manager. With the coming in of sponsorship there is so much work that needs to be done and recording so that everything is in order. He will also have the duty of ensuring that the team has training fields, training kits and will also look at the menus of the team," he said.
Nkomo left Highlanders to join FC Platinum at the beginning of 2011 while Mathe assisted former Bosso coach Mkhuphali Masuku the same year before he was relegated to the juniors.