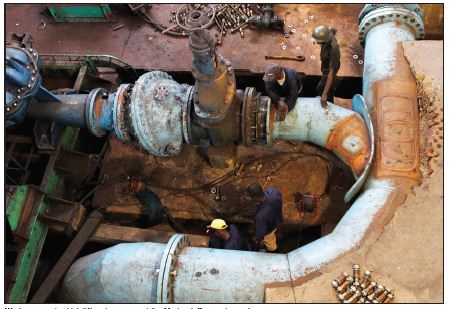 THE MORTON JAFFRAY water project was touted as the panacea to Harare's water woes and that belief stood until Mayor Bernard Manyenyeni dropped a bombshell recently in Parliament. After all the hullaballoo about the $144 million deal to refurbish the worn out Morton Jaffray water works, many, including those who have endured long queues at night to harvest the precious liquid from boreholes thought the dry taps in the Metropolitan province of Harare would be a thing of the past, but the hubbub has remained what it is.
___________________________________________________________________
SPECIAL REPORT BY MOSES MATENGA
According to Manyenyeni, the city would only get an additional 20% increase from the current 500 megalitres a day that it was pumping to more than 4 million residents within greater Harare encompassing Norton, Chitungwiza, Ruwa and Epworth.
His avowals were echoed by Environment, Water and Climate minister Saviour Kasukuwere who said the only remedy to the water crisis was the coming up of Kunzvi Dam into the supply system and until then, the erratic water supplies would remain thus.
WATER IS A BASIC RIGHT
"Besides the City of Harare failing to provide water, there is also failure by central government to ensure the steady realisation of the right to water and health as enshrined in the Constitution of Zimbabwe," the HRT report further reads.
In the wake of a serious water crisis, there is a local authority that's rubbing salt onto a wound by cutting supplies to defaulters, further worsening the situation.
"Water disconnections remain unjustified and illegal (and) HRT urges the Harare City Council to desist from disconnecting water from residents for allegedly owing the City of Harare in rates and rentals.
Coercion never works. Residents in Kuwadzana, Glen Norah and other suburbs had their water disconnected during the weeks 15 February to 07 March. In Kuwadzana 1 residents were disconnected for not paying the March 2014 bill. That is madness because residents cannot be disconnected for failure to pay for a service that is yet to be rendered. The billing system has to be revamped." RESIDENTS DRINK FROM CONTAMINATED SOURCES
Water has been a scarce commodity in Harare with council admitting it had failed in dealing with the precious liquid's supply.
This has led to residents taking to alternative sources including digging wells that have since become contaminated ultimately becoming the major source of waterborne diseases.
Combined Harare Residents' Association (CHRA) chairman Simbarashe Moyo said that the water situation was catastrophic and admission by government that it will not be solved soon was even scary.
"What happens is that people will turn to other alternative sources and once that is done, they fall sick and will flock to local council clinics for medication and again it's also a mess," he said.
NewsDay also observed that residents in areas like Mbare were resorting to the dangerously contaminated Mukuvisi River for drinking water, bathing and laundry, exposing themselves to waterborne diseases.
It was also observed that the same river was used as a dumpsite by industries making it a "poisonous water source" for residents.
Statistics availed by the Harare Residents' Trust (HRT) show that millions of people were going for days without water and residents had run out of patience.
"We are really seriously concerned with the capacity of the Harare Water [department] and the treasury department to bill for any service yet they are unable to provide that service," HRT boss Precious Shumba said
"Most suburbs across Harare have been experiencing water shortages since mid-February. The most affected areas are Kuwadzana Extension, Budiriro 1, 2 and 3, Mabvuku and Tafara where those in the 13, 14 and 15 households in Old Tafara last received water eight years ago," read the HRT report in part.
Other areas identified where waterborne diseases have been detected due to the water crisis include Mbare where seven cases were recorded from February 26 to March 5 2014.
There were unconfirmed reports of typhoid and cholera outbreaks in Mabvuku and Tafara.
OLD PIPES, MACHINERY COST COUNCIL
Harare has also complained about leakages due to what they say were dilapidated machinery and pipes that feed suburbs and industries.
Town clerk Tendai Mahachi, however, told Local Government minister Ignatius Chombo and his Water counterpart Kasukuwere that council had made available pressure reducing valves (PRVs) to control pressure and those leakages might be a thing of the past.
"The water supply networks have non-revenue water level of 60%. This is the difference between the water produced and the water sold. The high level of non-revenue water is due to physical water losses in the network, non-functional meters and illegal connections," read a document presented by City of Harare recently.
Harare has witnessed serious water leakages in the city particularly in the Avenues, CBD, Malborough, Warren Park and several other areas due to what council says were as a result of worn-out pipes.
"The following areas have permanent water leakages — At corner Nelson Mandela and Kwame Nkrumah, Leopold Takawira and Park lane. Along Robert Mugabe Road in front of Duly's Trucks, there is a huge opening with treated water flowing down the drain.
At corner Robson Manyika and Fourth Street there is a leakage since 21 February 2014. In the Avenues area, there is a leakage at corner Josiah Tongogara Avenue and Prince Edward Road," this according to the residents report in their areas.
In Mount Pleasant, Borrowdale, Greystone Park, and Glen Lorne residents have gone without water for the last eight months relying on water harvesting techniques and boreholes.
Those without boreholes have to buy water from water vendors for between $50 and $70 for 5 000 litres.
"For Mabvuku-Tafara, the situation in some low-lying areas is improving since they now have water once a week. Previously they got no water at all. They usually depend on boreholes sunk by Unicef in the community. In some high ground areas like Shashe in Mabvuku and Tsombori and Sosoori Crescent in Old Tafara they receive no water since 2005," said the HRT.
"In Budiriro 1, 2, 3 and 4- Residents in these areas have not had any tap water since 21 February 2014. Some residents in Budiriro 4 had water turned off by council workers due to unpaid bills. Residents draw water from one borehole, but it is inadequate considering the number of residents residing there."
COMPANIES SHOULD PAY FOR THE POLLUTION OF WATER BODIES
During a tour of the Morton Jaffray, both Chombo and Kasukuwere agreed that government had to act to make companies polluting sources of water pay for their actions without giving the burden to Harare.
So contaminated is the water that flows into Chivero that Harare uses eight, instead of two chemicals to try and purify it.
Despite using eight chemicals, there have been reports of the water still being far from pure and having the potential to cause diseases.
The current cost of chemicals is $100 000 a day or $3 million per month and the entire burden is forwarded to the ratepayer.
According to Kasukuwere, the Kunzvi Dam project will add 250 megalitres a day to the existing supply and until then, it is the struggle for the precious liquid continuing in the city of Harare.
REFURBISHMENT SHROUDED IN CONTROVERSY
The Morton Jaffray waterworks refurbishment has come with controversy with renowned engineer and consultant Peter Morris citing irregularities and overpricing.
Morris, who was engaged under the Zimbabwe Multi-Donor Trust Fund administered by the African Development Bank's Urgent Water Supply and Sewerage Rehabilitation Project to assess the deal noted that the prices in most instances were inflated by two, three or up to five times.
"An examination of rates where it has been possible to compare against other contracts (including Zimfund UWSSRP Phase I) suggests that prices are inflated in many cases by factors of 2, 3 or even 5 times. There is a provision for two boats with 150HP motors to access the intake tower at a cost of $91 393. A local firm is making a slightly smaller boat with a 150HP motor and trailer for $20 000," read the Morris report in part.
"Further, it is not necessary to have such powerful boats for this function; a displacement hull with a 20HP motor would be more than adequate."
Another discrepancy was that 14 DN300 gate valves with extension spindle cost $90 241 — including installation cost — although Gweru City Council had bought similar valves for about $1 000 each. This means the 14 valves could have been bought at around $14 000 instead of $90 241.
The report also showed that two 5.5KW alum transfer pumps were bought for $113 562 and yet they could have been bought for $7 548.
Also mayor Manyenyeni admitted that there could be corruption going on as the deal did not go through public tender.
Shadow minister for local government and MP for Gweru Central Sessel Zvidzai (MDC-T) said the cost of the project should not been more than $44 million had it not been for overpricing.
Local Government minister Chombo professed ignorance on the deal while Water Minister Kasukuwere said that it was above board challenging those who thought otherwise to provide evidence.