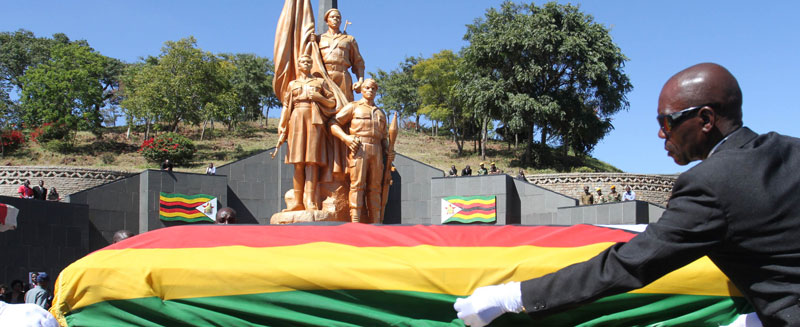 NOTORIOUS Mberengwa ex-war veterans' leader and Zanu PF activist Wilson Kufa Chitoro, popularly known as Biggie Chitoro, has been declared a liberation war hero and will be buried at the Midlands Provincial Heroes' Acre in Gweru today.
NDUDUZO TSHUMA
Chitoro died last Thursday after a long illness.
Midlands Provincial Affairs minister and Zanu PF provincial chairperson Jason Machaya said Chitoro had been automatically declared a liberation war hero since he was an ex-freedom fighter.
"He was declared a liberation war hero. We have three categories of heroes — a national hero, liberation war hero and a liberation hero," Machaya said.
"Chitoro automatically becomes a liberation war hero by virtue of having been a war veteran."
The Zanu PF terror campaign leader rose to infamy during the 2000 land invasions and terrorised opposition MDC supporters at Zanu PF torture bases in Mberengwa district.
Chitoro — together with his colleagues Shadreck Makoni, Francis Ncube, Sam Kid Ganyau, Morgan Gumbo, Nhamoinesu Dziva and Elias Zhou — was accused of kidnapping three MDC supporters whom they severely tortured on June 4 2000 at Texas Ranch, resulting in the death of Fainos Kufazvinei.
MDC-T leader Morgan Tsvangirai last year made reference to Chitoro at one of his campaign rallies in Zvishavane, saying when elected into power, Chitoro would be made to account for his deeds.
MDC-T spokesperson Douglas Mwonzora yesterday said they were not surprised with the honour given to Chitoro.
"All we can say as the MDC is may his soul rest in peace and God have mercy upon him. There is nothing surprising about what Zanu PF has done [granting Chitoro liberation war hero status]. We know they reward thieves, rapists and murderers. This is not new at all," Mwonzora said.