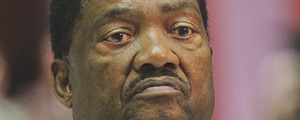 THE Zanu PF politburo has booted out top army officials and Masvingo party heavyweights from the money-spinning safari landholdings in the prized Save Valley Conservancy [SVC] for double-dipping, NewsDay has learnt.
Wisdom Mdzungairi
SVC, established in 1991 in Masvingo, is the largest private wildlife sanctuary in the world.
The explosive special politburo meeting chaired by President Robert Mugabe on Monday also resolved to remove all resettled farmers from properties protected under the Bilateral Investment Promotion and Protection Agreements (Bippas), among them Sango, Sabi, Chishakwe, Masapasi, Makore, Gunundwe and Chamurwe ranches.
The properties were reportedly owned by German, Danish, Dutch and South African nationals.
All gazetted land under the SVC besides properties under Bippas, will now become Parks estates expanding the territory under the Zimbabwe Parks and Wildlife Management Authority (Zimparks), which currently controls almost 20% of the country's tota land area.
Zanu PF spokesperson Rugare Gumbo confirmed Mugabe criticised top party officials and generals for "double-dipping" since they had benefited under the land reform programme.
Gumbo added the government would with immediate effect withdraw all 25-year leases offered to the top Zanu PF officials under the Wildlife Best Land Reform Policy that seeks to open conservancies to black Zimbabweans.
"The politburo made a decision to remove all those that had been allocated leases in Save Valley. It does not matter whether you are a politburo member or not, all beneficiaries were ordered out of that place," Gumbo said.
"The issue was if you did not yet have a farm, then government will give you one elsewhere and not in Save Valley. It was also not about which faction you belong Mai (VP Joice) Mujuru or (Emmerson) Mnangagwa, but greediness. Most of them are multiple land owners which is what the politburo said should not happen. That was the decision, and their removal must be expedited as per the politburo [resolution]."
The Zanu PF spokesperson said the move was a win-win situation because the white former owners were also set to lose their land as it would be incorporated into Parks estates.
Gumbo said that Masvingo Provincial Affairs minister Kudakwashe Bhasikiti had been asked to expedite the eviction of the politburo colleagues among other beneficiaries.
A high-level Zanu PF official also said Mugabe had during the politburo meeting accused the beneficiaries of greed by grabbing SVC when they had benefited under another government economic programme.
"The rest of the land besides Bippas, under wildlife, will now fall under government through Zimparks. Zimparks will choose how to protect the area. Most likely Zimparks will lease the properties while the Community Areas Management Programme for Indigenous Resources [Campfire] is expected to play a leading role to benefit communities," the official said. "The rationale behind the politburo decision is that we are trying to see how the local communities should benefit from the abundant wildlife resource in that area. So [Environment, Water and Climate minister Saviour] Kasukuwere was asked to cancel all the offer letters that were signed by his predecessor [Francis Nhema] while Lands minister [Douglas Mombeshora] should find land to resettle those that did not have farms."
The Zanu PF and military elites who had benefited from the SVC seizures include Retired Colonel Claudius Makova, Lieutenant-Colonel David Moyo, Major-General Gibson Mashingaidze, Assistant Commissioner Connel Dube, Masvingo provincial intelligence officer Chibaya, Major-General Engelbert Rugeje, Brigadier-General Livingstone Chineka, the late Higher Education minister Stan Mudenge, politburo member Nelson Mawema, Lands minister Douglas Mombeshora, ex-Masvingo governor Titus Maluleke, Zanu PF central committee member Enock Porusingazi, Senator Shuvai Mahofa; Zaka East MP Samson Mukanduri, and ex-MPs Ailess Baloyi, Abraham Sithole, Noel Mandebvu and Ronald Ndava.
Others included former Tourism secretary Sylvester Maunganidze, Masvingo provincial administrator Felix Chikovo, late Vice-President Simon Muzenda's son and Public Service deputy minister Tongai Muzenda, Elliot Takawira [believed to be related to national hero Leopold Takawira] and Buhera South MP and war veterans' leader Joseph Chinotimba.
However, another high-level official said: "Save Valley has been very successful for wildlife. Villagised resettlement is untenable. Mombeshora was tasked with finding alternative land to resettle those people that will be removed from Save."
The politburo reportedly discovered that it was erroneous to parcel out the conservancy without taking due regard to the tourism potential in the area given Buffalo Range Airport was a gateway to the world's biggest animal kingdom Great Limpopo Transfrontier Park straddling Gonarezhou National Park, Coutada 16 (Gaza) in Mozambique and South Africa's Kruger National Park.
"The politburo wondered how some among us invaded a wildlife jewel and therefore made redundant a national airport like Buffalo Range. The politburo has moved to correct that," the official said.
The politburo also ordered party officials to stop the rush for safaris and that all conservancies such as Midlands and Gwayi, among others, be turned into national parks.
Transport minister Obert Mpofu, Matabeleland North provincial minister Cain Mathema, ex-Matabeleland North governor Thokozile Mathuthu and late Vice-President John Nkomo who resettled in the Gwayi River conservancy will also lose their properties.
The SVC issue has been divisive in the Zanu PF politics as Cabinet ministers have been fighting over the issue. Tourism minister Walter Mzembi, who was also initially allocated a property in the conservancy, but later withdrew, was involved in a public spat with Nhema while recently he clashed with Kasukuwere over the matter.
But, the Zanu PF Masvingo provincial executive has repeatedly labelled Mzembi a "sell-out".
SVC has drawn support from the World Wildlife Fund and investors from Europe and the United States who were protected under Bippas.