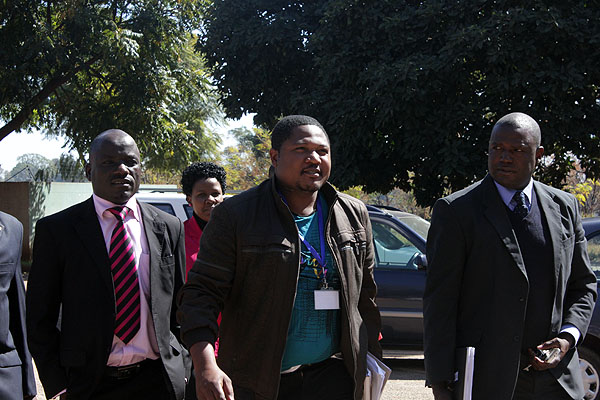 BUSINESSMAN and musician Energy Mutodi's trial over allegations of swindling home seekers of $588 787 had a false start yesterday after the prosecution objected to the production of a letter purportedly written by Local Government minister Ignatius Chombo to the Director-General of UN Habitat.
PHILLIP CHIDAVAENZI
Presiding magistrate Hosea Mujaya was forced to postpone the matter to June 3 to allow prosecutor Michael Reza to verify the authenticity of the letter and acquire other documents that the defence intended to produce during the course of the trial.
This was after defence lawyer Charles Chinyama had asked the State Land Management department head in the Ministry of Local Government, Ronny Shawatu, questions pertaining to the letter.
"The witness can't comment on a letter which was written when he was not there," Reza said.
"We don't even know if the letter was written by the minister. The State opposes questions pertaining to this letter."
Mutodi is jointly charged with his National Housing Development Trust and a trustee, Boniface Chikono.
The accused persons, who are being represented by lawyers Chinyama, Freddy Machokoto and Ray Tsvakwi, are facing 448 counts of fraud.
They all denied the charges when the trial opened yesterday. Shawatu told the court that his department never received any application from Mutodi for land for residential purposes.
"We have not allocated any land for residential purposes to the accused person, neither to the National Housing Development Trust," he said. "I have no reason to fabricate evidence against the accused persons."
Mutodi and his co-accused allegedly sold pieces of land in Crowhill (Borrowdale), Chizhanje (Mabvuku), Tynwald, Marimba Park, Caledonia, Amsterdam (Harare), Gimboki (Mutare), Gweru, Bulawayo and Riverside (Masvingo).
Under cross-examination by Chinyama, Shawatu said he had proof that he had been authorised by the minister to come and testify on behalf of the ministry as it was part of his duties.
He, however, conceded that he could not testify on issues pertaining to private or council land.
That was after Chinyama had said Mutodi purchased the pieces of land from private owners, which was the reason why the application for the land was not made to his office.
The flamboyant musician is said to have lured over 16 000 civil servants to join and contribute to the housing scheme.
Deduction orders were allegedly given to the Salary Service Bureau to deduct certain amounts of money on a monthly basis from civil servants who had joined the scheme.
It is alleged that sometime in 2007, Mutodi went on to change the account signing arrangement, and made himself the sole signatory. He allegedly signed for all the transactions.
At least $588 787 was paid in by the complainants and Mutodi, contrary to his promises, allegedly withdrew all the money and converted it to his own use.