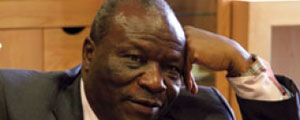 PUBLIC Service, Labour and Social Welfare minister Nicholas Goche yesterday told Senate that government was considering coming up with a policy framework to regulate churches.
VENERANDA LANGA SENIOR PARLIAMENTARY REPORTER
He said Cabinet was still at consultation stage on the issue given the cases of sexual and financial abuse by certain church leaders.
Goche was responding to a question by Matabeleland South Senator Watchy Sibanda (MDC-T) who wanted to know government's policy framework in terms of the registration of sprouting churches some of which are allegedly abusing women.
"There are no specific laws that deal with regulation of churches as they are registered as private holder organisations," Goche said.
"However, because of the problems that have arisen at various churches government is now thinking of a policy framework and this issue was briefly discussed in Cabinet and at that particular time it was not known which particular ministry should be responsible for regulation of churches."
Goche continued: "It is now a matter within government consultations that are on-going and when a final decision has been reached, government will make a final policy pronouncement on churches."
RMG Independent End Time Message Church leader Robert Martin Gumbura was recently jailed for 40 years for raping female congregants from his church.
In another un-related matter, Home Affairs deputy minister Ziyambi Ziyambi also told Senate that the 2 000 police officers that were recently transferred from their work stations were moved due to valid reasons like shortages of skilled manpower at some particular stations.
Ziyambi was responding to a question by Matabeleland South Senator Sithembile Mlotshwa, who wanted to know if the transfers were not going to promote corrupt activities at the new work stations since the transferred police were bad apples.
"Our police do not have permanent work stations during the duration of their service in the force," Ziyambi said.
"Transfers are done according to needs and if we have a critical shortage of skills in one area we can move them around and we do not allow one person to be at one station for a long time.
"The transfers were not for corruption."
Transport and Infrastructural Development deputy minister Petronella Kagonye also told Senate that her ministry would effect investigations into the issuance of driver's licences due to reports of corruption.
This was after Harare Metropolitan Senator Cleveria Chizema claimed people who did not even know how to reverse vehicles were issued with licences at Chitungwiza VID depot without undergoing road tests.