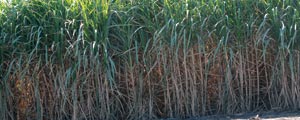 APPROXIMATELY 14 hectares of sugar cane at Green Fuel's Chisumbanje plantations reportedly went up in smoke over the weekend in a suspected case of arson. The ethanol-producing company is currently embroiled in a bitter boundary fight with villagers in the nearby Chinyamukwakwa area STAFF REPORTER
The villagers have accused the company of encroaching into their farmland.
The affected plantation is said to be near the block bordering Chinyamukwakwa and the small-scale irrigation scheme.
The incident happened shortly after four European-based human rights organisations petitioned Green Fuel major shareholder Billy Rautenbach to stop "victimising" the villagers by destroying crops and taking away their land.
Although both police in Manicaland and the company officials were unreachable for comment yesterday, Chipinge South MP Enock Porusingazi (Zanu PF) confirmed the fire outbreak.
"We suspect some rogue elements that are against this project might be behind the fire," Porusingazi said.
"We obviously condemn this act of sabotage, and by so doing, they benefit nothing at all. People should understand that this is a very important project for the country.
"We don't want this backward attitude. If there are differences, let them be solved through dialogue. However, we will leave this to police to make their own investigations, but we are so disheartened by such level of sabotage.
"The door has never been shut for dialogue and we cannot expect such attitude from the people of Chipinge South."
Porusingazi said he was planning to visit the affected area soon.