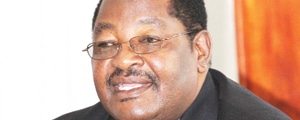 TEMPERS flared yesterday between former Mines minister Obert Mpofu and Core Mining director Lovemore Kurotwi's lawyer Beatrice Mtetwa, as the minister refused to answer some questions during cross-examination describing them as "unreasonable childish". Charles Laiton
Mpofu, who is now Transport minister, almost lost his temper after Mtetwa repeatedly asked him whether he kept minutes of all the meetings he held with investors and Kurotwi while discussing issues pertaining to diamond mining in Marange.
When Mtetwa pressed Mpofu to comment on whether the joint venture agreement between Core Mining and Marange Resources had a clause where it was stated that diamond mining giants, BSGR, were going to inject $2 billion into the joint venture, Mpofu said: "You cannot reduce me to some cheap commentator, I do not want to be challenged by such unreasonable, childish questions, you have a pile of records in front of you and you are referring to them to refresh your memory and I don't have any. I understand the predicament you have in dealing with this matter, but I cannot be forced to comment on irrelevant matters."
The minister further said he did not remember some of the events off-hand since he had not brought with him any reference material, but Mtetwa suggested to him that the reason why he had forgotten was because he did not keep minutes.
Mtetwa further asked Mpofu as to whether when he dealt with potential investors, he took into account the Zimbabwe Mining Development (ZMDC) guidelines, to which he responded: "I was not guided by the ZMDC guidelines, most of these visitors simply paid courtesy calls and we referred them to ZMDC. I did not need any guidelines to deal with investors."
When Mtetwa asked Mpofu if he disclosed to President Robert Mugabe that BSGR's commitment to the agreement to support Core Mining was subject to meeting certain conditions, the minister said: "ZMDC did not disclose that information to me, my letter to the President was an extraction of what ZMDC had written to me.
How would I tell him when ZMDC had not told me such information?" Mtetwa further said because Mpofu did not disclose BSGR's position to the President, he, however, did not copy the letter to ZMDC because he did not want them to know.
"Why would I copy my correspondent to the President to ZMDC? What kind of lawyer are you?" Mpofu queried.
As the matter continued, Mpofu admitted that BSGR had said it would only come to support Core Mining "if there was an authentic signed agreement which met their conditions".
Mpofu told the court he was only aware of an agreement that was scrutinised by the Attorney-General's Office and not the one that was being referred to by Kurotwi and his co-accused, former ZMDC chief executive Dominic Mubaiwa.
Mpofu is testifying in the $2 billion fraud trial in which Kurotwi and Mubaiwa are being accused of misrepresenting facts that led to the formation of a joint venture between Core Mining and Marange Resources that formed the now-defunct Canadile Miners.