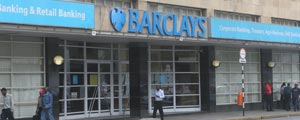 BARCLAYS Bank of Zimbabwe Limited's profit after tax more than doubled to $1,7 million in the half year ended June 30 from the same period last year, spurred by the growth in income. VICTORIA MTOMBA
Total income grew by 9% to $20,8 million during the period under review.
In a statement accompanying the bank's financial results, Barclays managing director George Guvamatanga said profit after tax increased from $844 217 recorded during the same period last year.
"The profit after tax of $1,7 million was achieved compared to $0,8 million from the previous period resulting from pre-tax profit growth of 126% year-on-year. This performance was premised on income growth of 9%.This is against the backdrop of interest yields trending down and transaction activity being subdued," Guvamatanga said.
Net interest income for the bank stood at $6,8 million during the half-year period up from $5,8 million recorded in the same period last year.
Loans and advances to banks and individuals increased to $204 122 and $111 009 124 respectively.
Loans and advances to banks were up from $160 998, while loans and advances to customers stood at $97 471 468 in June 2013. "Our loan book grew by 14% year-on-year as we extended facilities to businesses and individuals across most sectors of the economy. The 4% decline from December 2013 levels reflects some seasonal trend on facility utilisation by some of our customers," Guvamatanga said.
He said deposits grew by 3%to $238 million in 2014 without any changes to the bank's effective cost of fund.
"Compared to December 2013, deposits came down by 4%, largely reflecting the seasonal nature of the part of the deposit base. Market deposits have grown marginally over the same period," he said.
Impairment losses on loans and advances stood at $394 210 from $223 441 in June 2013.
Non-funded income stood at $14,4 million compared to $13,6 million the same period in 2013.
Operating expenses increased to $18,4 million from $18,1 million during the same period last year.
Board chairman Anthony Mandiwanza said the bank's performance for the first half of the year showed an improvement although the growth momentum had been slower relative to the position as at December 31, 2013.
In its quarterly report, the Reserve Bank of Zimbabwe showed that banking deposits continued to be dominated by demand deposits that accounted for 57,92% of total deposits.
The central bank said during the first quarter of this year, 16 banking institutions posted profits for the quarter.
The sector posted an aggregate net profit of $20,47 million up from $0,47 million.