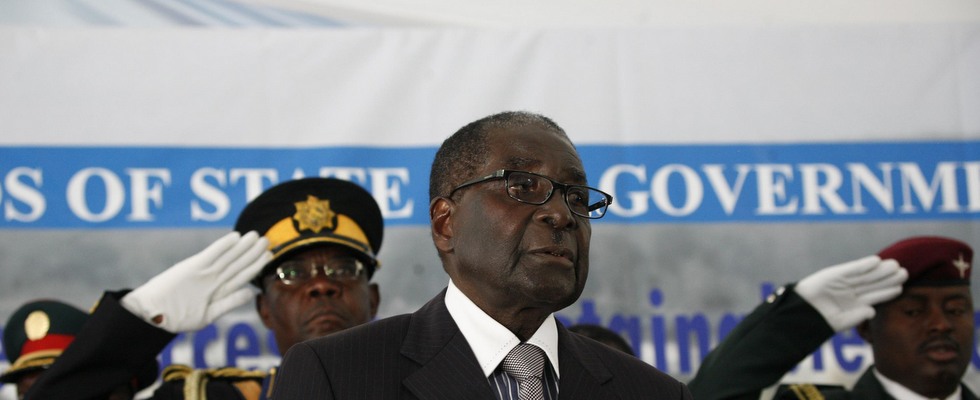 Zimbabwe's president Robert Mugabe on Sunday assumed chairmanship of Sadc and immediately declared his wish for the regional block to wean itself from depending on foreign partners.
OWEN GAGARE/EVERSON MUSHAVA IN VICTORIA FALLS
Mugabe said the dependence syndrome compromised the body's Independence.
In his acceptance speech after taking over chairmanship of the regional grouping from Malawi's Peter Mutharika in Victoria Falls, Mugabe warned Sadc against coming out with a number of programmes of action that it cannot sustain with its own internally mobilised resources.
Currently, about 60% of Sadc's programmes were externally funded.
"Our continued over-reliance on the generosity and goodwill of our cooperating partners tend to compromise our ownership and sustainability of our Sadc programmes. How can we proudly claim Sadc to be our own organisation when close to 60% of our programmes are externally funded," Mugabe queried. "As Sadc, we should not lose sight of our regional integration agenda, our focus and priorities. We should not be tempted to introduce or embrace, too many programmes which in the end we fail to fund from our own resources. "We therefore feel that the current process underway to review the regional integrated strategic development programme should not be a mere academic exercise, but a reality check which should redirect us."
Mugabe added that the review of the Regional Indicative Strategic Development Programme, should result in a Sadc, with fewer and focussed programmes that were core to its vision of regional integrationaimed at strengthening economies and the improvement of the lives of the people in the region.
He said the theme of the conference – Sadc strategy for economic transformation: leveraging the region's diverse resources for sustainable economic and social development through beneficiation and value addition – which echoes Zimbabwe's five year economic blueprint ZimAsset, had the potential to drive both short and long-term regional objectives.
Beneficiation of Sadc's abundant resources, Mugabe said, could help industrialise the region and create employment. He said the summit should lay a foundation for implementation strategies towards beneficiation of natural resources.
"Our material resources are capable of playing a pivotal role in the development of all Sadc member states," he said.
Under Mugabe's chairmanship, Botswana, Namibia and Mozambique will hold elections. He said he hoped the elections would be done according to the Sadc principles and guidelines on democratic elections.
Mugabe said Sadc should observe its own elections with other African institutions and friendly nations instead of inviting hostile countries whom he said tended to be biased. Zimbabwe held elections last year which were condemned by the West although African observer missions, other than Botswana, approved the polls.
"As we saw in Zimbabwe, we of Africa know what the truth is, but there are others who think the truth can become untruth. And these are the people we don't want. Why do they come if they are not objective?" he asked.
Mugabe also blasted the West for imposing sanctions and said neither he nor Sadc knew why they were imposed.
As has become the norm on regional and international platforms, Mugabe also took a swipe at western nations, this time for folding their arms as Israel "butchers" the people of Palestine.
"It will be remiss of me if i conclude my remarks without reference to the recent brutalities that have been meted out against the Palestinian people. The Western world which claims high moral ground on issues of human rights and the sanctity of life have looked with moral and academic indifference while the Israeli army continues to butcher innocent women and children, all under the false guise of fighting terrorists," he said.
"We have seen children being butchered, even attacks on schools, hospitals and even attacks on United Nations units. It never happens anywhere. Is Israel that so precious that it can't be stopped or is it on the assumption that these children will be terrorists tomorrow or that these women will give birth to future terrorists?"
Mugabe added: "This is the most brutal demonstration of man's humanity to man and it is criminal for the world to keep silent in the wake of such crimes against humanity."