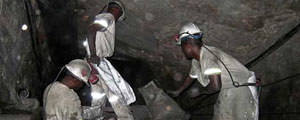 PLAYERS in the mining sector are set to record mixed fortunes in the second half of the year due to depressed commodities prices and low output from various minerals. VICTORIA MTOMBA A Chamber of Mines (COMZ) spokesperson said during the first half of the year, a total of $923 million was recorded in terms of value from the output of various minerals in the country.
Gold was leading the pack with a total output of 6 800 kilogrammes (kg) from a total amount of $277,5 million followed by platinum that had a total output of 6 435kg from a total value of $263,4 million.
Palladium was the third mineral in terms of value during the period under review having earned $114 million from an output of 5 241kg.
"The outlook is relatively mixed against the challenges that the sector is facing. The platinum sector will have lower output given the situation at Zimplats. That will reduce the output for platinum. Gold and other minerals will improve. The operating costs in the sector are beyond the reach of many small to medium players which is another big challenge as well," the spokesperson said.
"We are talking to the Zimbabwe Electricity Transmission and Distribution Company to give us a special tariff for the gold sector. There are a lot of initiatives to prop up production and harnessing capital to reduce operational costs."
The spokesperson said the chamber was engaging power utility Zesa to find an amicable solution to reduce the cost of electricity. He said the sector was in the process of engaging government over royalties.
The spokesperson said the mining sector was operating below capacity between 50%-60% and still has potential to increase its output if the various issues in the sector are addressed.
The spokesperson said the platinum sector was operating at 100%, gold 50% and the other sectors were at 10%.
The country's mining output figures that exclude diamonds from the COMZ show that the mining sector has been on a growth path since 2009 in terms of values.
In his mid-term fiscal policy review last week, Finance minister Patrick Chinamasa said the mining sector was expected to grow by 10,7% this year due to increased output for nickel, coal, gold and diamonds.
"However, weak international prices for some minerals, frequent power outages, obsolete equipment and inadequate funding for recapitalisation undermined performance during the first half of the year," Chinamasa said.
"Consequently, output for gold, platinum and diamonds was subdued, necessitating a downward revision of sector growth to -1,9%."
The mining sector has been the backbone of the economy since 2009 when the country introduced the multi-currency system.
In 2009, the sector recorded a total of $671,5 million from all minerals, growing to $1,4 billion in 2010.
In 2011, the total value stood at $2 billion before reducing to $1,9 billion in 2012.
Last year, the total value of mineral sales was $1,97 billion.