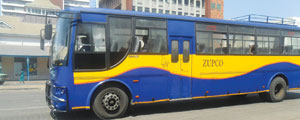 FINANCIALLY-TROUBLED public transport operator Zupco has sent over 100 workers at its northern division on six months' unpaid leave as it battles to stay afloat, NewsDay has learnt.
BY PAIDAMOYO MUZULU
Zupco acting CEO Tendai Masaire advised the affected workers in a letter last Friday after the two parties failed to agree on the way forward.
Part of the letter reads: "Subsequent to the National Works Council Meeting held on February 5 2015, management hereby advises that you are proceeding on unpaid leave for six months with effect from February 6 to July 5, 2015. This has been caused by the current low business volumes in existence."
However, Zimbabwe Congress of Trade Unions (ZCTU) acting secretary-general Gideon Shoko said: "This is a bad development to both the worker and the government as employees will lose their salaries and probably their jobs while the government will lose taxes." Sources at the bus company said the forced leave only affected employees in the northern division which covers Harare and Mashonaland provinces.
"Employees from southern division and head office continue to receive their salaries on time and will not be affected by this new management resolution," the insider said.
Northern division workers' committee chairman Godfrey Homera declined to comment over the matter which he described as "too sensitive". Masaire was not immediately available for comment.
Meanwhile, Zupco workers were last week given a certificate of no settlement by a conciliator in their dispute with the company over outstanding salaries and allowances.
The dispute has since been referred to an independent arbitrator by the National Employment Council for Transport Operators Industry.