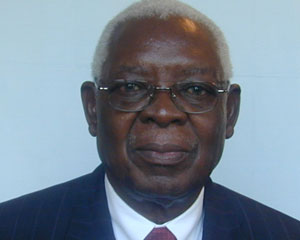 ZANU PF long-serving and former politburo member, Cephas Msipa, has blasted his fellow party members for wasting precious time "politicking" and fighting each other instead of addressing the current economic challenges facing Zimbabwe.
BY STAFF Reporter/ OWN correspondent
Msipa's remarks came in the wake of plans by expelled Zanu PF members to form a political party under the banner Zanu People First — reportedly under former Vice-President Joice Mujuru's leadership.
Mujuru yesterday defended the "People First" project, saying the "original Zanu PF slogan "Iwe neni tine basa", loosely translated (you and I have work to do), always had the people at heart.
In an exclusive interview with NewsDay at his base in Gweru last Friday, Msipa said Zanu PF was economically clueless and had no capacity to remedy the free-falling economy "because of its divisive tendencies". He said the ruling party's priorities were wrong.
"It is sad that the politburo is spending so much time to oust cadres from the party. Even during my time in there (politburo), we spent so much time politicking and never dedicated much time to tackling economic and development issues," Msipa said.
"I look back and it's a pity that we have never spent even a single night discussing how best we can turn around the economy. Our priorities are wrong."
President Robert Mugabe chairs politburo and Cabinet. Zanu PF is currently swimming in the middle of a storm, with several top party members including Mujuru being
booted out on allegations of plotting to oust Mugabe.
"It is very unfortunate and embarrassing that now we are talking of Weevils and Gamatox which is foreign and divisive to the party. We should go back to our roots where we used to call each other mwana wevhu (son of the soil). It is sad that the likes of former Vice-President Mujuru are being treated this way by the party," Msipa said.
Other ruling party heavyweights that have recently been booted out include former secretary for administration Didymus Mutasa, former spokesperson Rugare Gumbo, among others , but the axe was still hanging over several party stalwarts linked to the Mujuru camp.
Msipa said although Mujuru had been kicked out of Zanu PF, she and many others remained genuine national heroes. "We can disagree on political and maybe economic issues, but that should not be used to distort our history. A hero yesterday will always remain a hero today," he said.
Msipa, the former Midlands governor, is the oldest surviving former PF Zapu member, largely credited for brokering the 1987 Unity Accord which united Zanu and PF Zapu, ending the Gukurahundi massacre.
Gukurahundi saw the death of over 20 000 civilians' mostly in Matabeleland and Midlands provinces. On reports that expelled former Zanu PF members were planning to form an opposition party, Msipa said: "As a democrat, I do not have problems with anyone forming a party, but there has to be justification of that formation. People need to know that in what way are they different from Zanu PF, and then later on, it will be up to the electorate to decide whether to get them in office or not. Remember we fought for democracy."
Mujuru has vowed that she could not be fired from the "Original Zanu PF", a move which showed that she was spoiling for a fight with Mugabe.