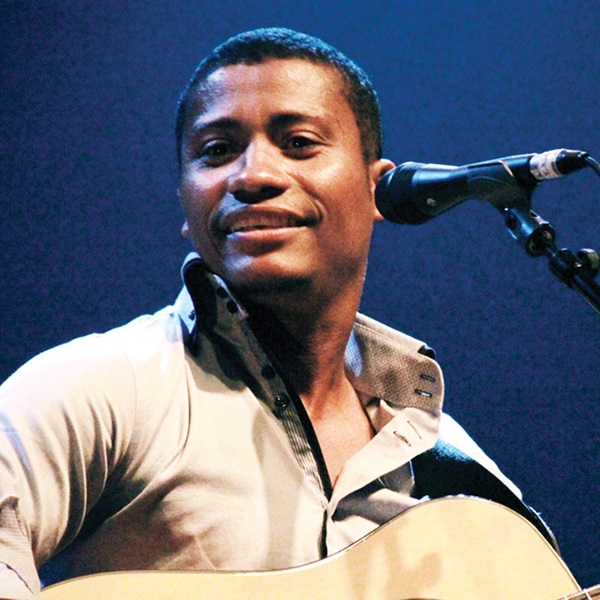 Theirs is not the kind of music you have to get up and dance to or understand the lyrics to enjoy it. For two musicians who do not share a common language, Cape Verde's Tcheka and South Africa's Derek Gripper's collaboration on the closing evening of the 2015 Harare International Festival of Arts (HIFA) was purely magical.
by CECELIA KAMPUTA
They had the audience sitting there in the green of the ZOL Main Stage, soaking in the magical ambience created by Tcheka's soulful voice and the mellifluous melodies of their guitars.
"We do not share a common language", said Gripper during their performance, "during the rehearsals, they speak for a long time and I would then ask what was being said and would be told that I needed to play softly as he sings."
Adroitly transferring the Malian kora repertoire onto a regular six string guitar, Gripper created an intricate and poignant melody coupled with Tcheka's moving Creole lyrics and innovative guitar styles, to create a mesmerising sound.
"I can now speak English, French and Creole", said Tcheka in faltering English, to the cheers of the audience, "I love the people of Zimbabwe."
A singer, songwriter and guitarist, Tcheka, born Manuel Lopes Andrade songwriter and guitarist, met the solo acoustic guitarist, composer and performer, Derek Gripper in Zanzibar whilst running music workshops for a non-profit organization, Learn Africa, and despite them not understanding each other's languages, they managed to create a magical musical conversation at the Sauti za Busara music festival.
Derek Gripper is an extraordinary musician and a classically accomplished guitarist who produces a spellbinding sound, nominated for the 19th edition of South African Music Awards for Best Classical and Instrumental Album for his ninth album, One Night on Earth: Music from the Strings of Mali, which Banning Eyre of Afropop Worldwide commented, "It's hard to imagine a more impressive and passionate rendering of Malian music on classical guitar."
Tcheka, described by the National Geographic as one of Cape Verde's emerging young stars, is well known for his work in rearranging the conventional Afro-creole folk sound, Batuku, to the electro-acoustic guitar.