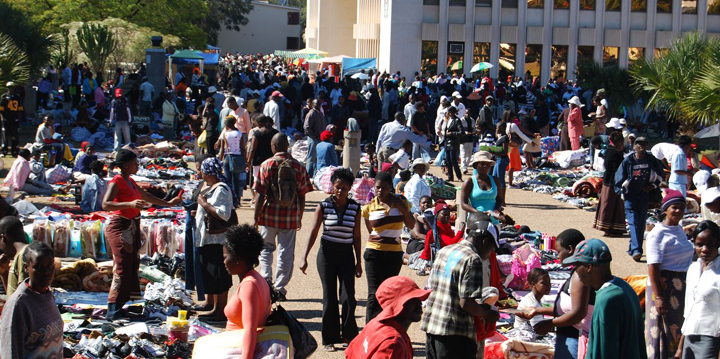 Vendors at Mupedzanhamo in Mbare have expressed dismay over Harare City Council's failure to rein in vendors who are selling clothing items at undesignated places in the central business district (CBD).
In the past few months, vendors have virtually taken over the CBD selling all kinds of items from kitchenware and groceries to clothing items on the pavements, turning the once "Sunshine City" into an eyesore.
Vendors who spoke to NewsDay last week said it was no longer viable to do business at Mupedzanhamo, which used to attract thousands of customers every day.
They said it was no longer viable to operate at Mupedzanhamo where they pay rentals, while others had moved into the CBD where they don't pay rentals.
The vendors who have traditionally done business at Mupedzanhamo for many years have seen their fortunes dwindle since customers are no longer coming to the traditional marketplace because they can now purchase second-hand clothing items at cheap prices in the city centre.
Council has designated vending sites along Cameron Street, Market Square, Dr Simon Muzenda Street (formerly Fourth Street), Chinhoyi Street and Park Street. Vendors at Mupedzanhamo have threatened to "invade" the city centre in protest over what they termed "unfair" business practice.
Mercy Gumbe, a vendor at Mupedzanhamo, said it was unfair for council to allocate vending places to others in the CBD, while they remained on the outskirts. "I pay rentals of $500 every month while others are just putting their wares for free in town," she said.
"The City of Harare should come up with proper ways to curb the rot because if it continues like this we are going to abandon the place and invade the CBD." Another vendor who only identified himself as Baba Mufaro said they had recorded low sales because of the influx of second-hand clothes "boutiques" in the CBD. "Traditionally, people from Mabuchi, Epworth and other areas would come here to buy clothes," he said.
"We used to have people from other cities and towns coming here, but it is all gone. They just buy their items in town while we are stuck here."
Investigations showed that while vendors at Mupedzanhamo were expected to pay monthly rentals, most of those in the CBD were not paying.
Emilia Khumalo, a vendor in the CBD, said she had since moved from Mbare because it was no longer making business sense.
"We have families to look after and I cannot continue to be holed in Mbare while others make money in town," she said.
"The charges in Mbare are exorbitant while I can do business without paying any cent here."
Harare City Council seems to be losing the battle against vendors and has resolved to rope in Local Government minister Ignatius Chombo to restore sanity in the city centre.
Chombo has been pushing for the ejection of vendors from the streets in the CBD saying they compromised health standards.
According to minutes of the March meeting of the council's information and publicity committee, the local authority conceded that the issue of vendors was now out of control and could only be resolved at central government level.
"The committee felt that delays in taking action as soon as illegal activities became evident had contributed to the problem," the minutes read in part.
Just like in many other urban centres, Harare City Council has for the past few years engaged in running battles with vendors who continue selling their wares at undesignated points and refuse to pay council levies.
The First Lady Grace Mugabe, who ordered the municipal police and authorities to leave vendors who are selling their wares even at undesignated points, has exacerbated the situation.
Last year, council introduced new regulations to govern the operations of vendors in the capital.
The new regulations titled Harare Vendors By-Laws, 2014, contained in Statutory Instrument 159 of 2014, published in the Government Gazette empower the council to set aside land or premises for vending.
However, vendors have continued to abandon wares constructed for them in a bid to find brisk places.