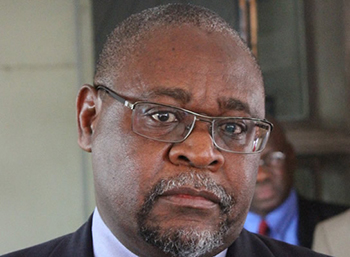 BY NDAMU SANDU IN ABIDJAN, Ivory Coast
Sadc-sponsored candidate Thomas Zondo Sakala says he is not feeling any pressure and has put forward his vision and agenda on the table as African Development Bank (AfDB) members meet today to elect a new president.
The bank's governors have to elect a successor to Rwandan Donald Kaberuka who is completing his second and final term on August 31.
Seven candidates — Akinwumi Adesina (Nigeria), Sufian Ahmed (Ethiopia), Jaloul Ayed (Tunisia), Kordje Bedoumra (Chad), Cristina Duarte (Cape Verde), Samurai Kamara (Sierra Leone) and Malian Birama Boubacar Sidibe — stand in Sakala's way. Sakala told NewsDay yesterday that he has been able to share his vision and agenda for the bank with members.
"I don't feel any pressure. You have a message, it's on the table. There are people who are supposed to appreciate it and make decisions," Sakala said yesterday. "I expect what determines the choice of governors is what each candidate has brought on the table."
Sakala said AfDB was solid financially and operationally and the task was to build on the winning foundation. "Given the fact that I have good knowledge of the institution and I was involved in many of the reforms and initiatives, I consider myself as a front runner, one who can hit the ground running," said Sakala.
His campaign for the top post took him to African and Asian countries, among others, to drum up support. He said the visits enabled him to share his vision.
"As shareholders, they won't tell you that they will vote for you. I am assured of Sadc countries because I am their candidate. As for the rest of other shareholders, one hopes that they understand my vision and agenda for the bank," said the banker who worked for 30 years at AfDB rising to Country and Regional Programmes and Policies vice-president.
He stepped down last year to campaign for the top post. "Other shareholders will appreciate that Sadc went through a process of selection because they share the same vision. It will make it easier for them [Sadc] to pass the vision to other shareholders," he said.
AfDB has 80 shareholders. African members constitute 60% of the total voting power. Non-African members have 40% of the total voting power.
For a candidate to assume control of the bank, he or she has to garner at least 50,01% of the total voting power of all the member States.
The candidate has to get at least 50,01% of the total votes of the regional (African) member states. Sakala will go into the polls with 14,298% of the total voting power in the bag by virtue of having the support of Sadc.
A candidate with the lowest votes in the first round will exit the race and his votes will be up for grabs by remaining candidates. This will depend on the relations between countries. In March Finance minister Patrick Chinamasa said he had secured the support of some African countries in the event that their candidates were defeated in earlier rounds.
The voting power of a member country is on the basis of payment on account of capital subscriptions. Sakala has said that an AfDB under his leadership would be responsive during situations of fragility, emergency and conflict.
If elected, Sakala said AfDB would focus on five key areas — closing the infrastructure gap, regional integration, solving fragility and conflicts, private sector development, and gender equality.
Past presidents: Mamoun Beheiry (Sudan) — November 1967 to August 1970; Abdelwahad Labidi (Tunisia) — August 1970 to May 1976; Kwame Donkor Fordwor (Ghana) — May 1976 to July 1979; Goodall Gondwe (Malawi) caretaker capacity — 1979-1980; Wila D Mungomba (Zambia) — June 1980 to May 1985; Omar Kabbaj (Morocco) — August 1995 to August 2005.
Related Topics