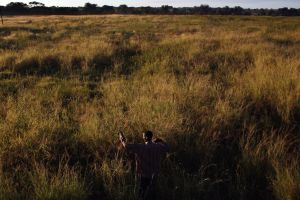 NORMALCY has returned at a Goromonzi horticulture farm where production and export of flowers had stopped after a suspected Central Intelligence Organisation official, Timothy Muyambo, invaded the property.
By Everson Mushava
Mathew Hopgood, managing director of Little Flowers Farm, yesterday said operations resumed after Muyambo was kicked out by a High Court order issued by Justice Nicholas Mathonsi on Tuesday.
Hopgood said police officers and security guards who had been deployed by Muyambo at the farm had left and the export of flowers and peas that had been suspended for almost two weeks was set to resume.
"Operations have resumed and we will resume exporting flowers and peas," Hopgood told NewsDay yesterday. Muyambo invaded the farm on June 8, and immediately told the workers that he was the new owner. He deployed guards at the main entrance bringing to a standstill the export of farm produce.
The farm exports about 180 boxes of flowers and close to two tonnes of peas every week. The suspension of operations had threatened livelihoods of over 150 employees at the farm.
But following Hopgood's application, the High Court ordered the eviction of Muyambo alongside James Chiyangwa, R Kituli, Tendai Bonga, who were occupying part of the farm, and the police officers that had been deployed to guard the farm. Chiyangwa, Kituli and Bonga were said to be occupying portions of land at the farm without offer letters.
Hopgood said he had not checked to see if the three had vacated the farm.