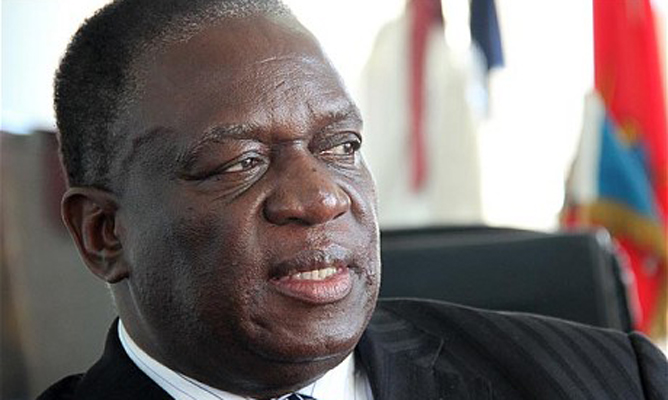 VICE-PRESIDENT Emmerson Mnanagagwa yesterday admitted that the economy has hit rock bottom as a result of the land reform programme launched in 2000.
BY BLESSED MHLANGA
Speaking in Kwekwe during the official opening of Dazzle Super Supermarkets, Mnangagwa said it was now time the country joined other nations on an economic recovery path.
"We are at the bottom of the pit, but we are rising with pride because we now control our own destiny and resources as a proud black people,"Mnangagwa said.
"We are going through a painful time in our history in which we have seen our people lose jobs and companies closing down in the Midlands and the rest of the country.
"This is because of the land redistribution exercise which was put in place by our resolute leader President Robert Mugabe and we were hit by sanctions, forcing company closures and loss of jobs."
Mnangagwa said Mugabe had entrusted him with leading the country's economic recovery.
"In the next few weeks we will be announcing the takeover of Cottco by the government so that we can drive the prices of cotton in this country. We want to ensure that the clothing industry is viable again with cotton being beneficiated here instead of being exported," he said.
The supermarket chain is jointly owned by South African-based Advance Africa and a Zimbabwean consortium. The $4 million investment by Advance Africa has created 100 jobs in Kwekwe just weeks after 400 people lost their jobs at Zimasco.
Mnangagwa, who twice lost the bid to represent Kwekwe as an MP after being defeated by Blessing Chebundo of the opposition MDC-T, said he was no longer bitter about his defeat.
"Don't be worried that at one time you forgot about me and ousted me from Parliament because I have not forgotten you," he said.