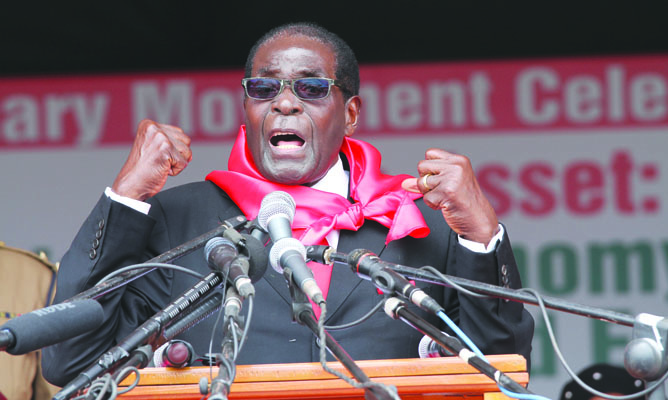 PRESIDENT Robert Mugabe's latest attacks on the late former army General Solomon Mujuru has drawn sharp criticism from his relatives and associates. Mugabe last Friday repeated claims that Mujuru, who died in a mysterious inferno at his Beatrice farm in August 2011, plotted against him.
By Everson Mushava
The 91-year-old Zanu PF leader said Zimbabwe's first black army commander joined forces with former Finance minister Simba Makoni and academic Ibbo Mandaza in an effort to topple him.
Mugabe was a addressing a Zanu PF Women's League meeting in Harare where he said Mujuru had said Zimbabweans cannot suffer because of one man.
Mandaza said Mugabe's comments were in bad taste considering the eulogy he gave when the late Zanu PF kingmaker was buried at the Heroes Acre.
"I will not comment (on Mugabe's allegations), but the public will draw a correlation between his attacks and the demise of the general," Mandaza said.
"It is bad to speak ill about the departed whom he eulogised at the national shrine."
Mujuru's brother, Joel, poured scorn on Mugabe's claims saying the three should have been arrested if there was evidence of such a plot.
"We never heard anything about Solomon wanting to remove the President," Joel said.
"We don't have any information regarding that. It is the President who has the information. But my question is, why were they not arrested?
"Even if I am Solomon's relative, I will not comment on what the President said."
Joel has been consistent in demanding answers on Mujuru's death and revealed recently that the family was pushing for a private investigation.
Former Zanu PF spokesperson Rugare Gumbo said Mugabe was trying to use Mujuru's name to divert attention from his failure to address the economic challenges facing the country.
"If General Mujuru wanted to remove him from power constitutionally, what is wrong with that?" Gumbo asked.
"Is Zimbabwe a Mugabe dynasty that he should rule forever?
"If General Mujuru wanted to take over power, it was also his constitutional right to rule the country as a Zimbabwean citizen."
Gumbo, who is one of the top Zanu PF leaders purged by Mugabe over allegations that they were linked to a plot by Mujuru's widow, former Vice-President Joice Mujuru, to stage a coup, said the veteran ruler had run out of ideas.
"Mugabe is always talking about it because Mujuru was the one who made him President," the former Zanu PF politburo member said.
"But in any case, why should we always focus on history instead of looking forward. We have major challenges of the economy as a country."
Gumbo said Mugabe was behaving as an activist than leader of the country.
"He is always making enemies with everyone instead of looking for friends to develop the country," he said. "He is always shouting at other people including some African leaders. As People First, we say we need everyone to rebuild the country."
Gumbo is now the spokesperson of People First, a group of disgruntled ex-Zanu PF members who want former VP Mujuru to challenge Mugabe in the next elections.
Pedzisayi Ruhanya, a political analyst, said Mugabe's attacks on Mujuru showed that he did not embrace democracy.
"Several questions have been raised about General Majuru's mysterious and contestable death," Ruhanya said.
He said it was wrong for Mugabe to make accusations against a dead person.
Ruhanya said there would never be closure on Mujuru's death, just like that of Zanla commander Josiah Tongagara, until a plausible explanation was provided on their demise.
"Why is he beating a dead body? Why should he attack someone who no longer has the right to respond?
In fact, Mugabe is belittling himself and at the same time shooting himself in the foot. He will never undo Mujuru's liberation credentials," Ruhanya said. "Mugabe is an ungrateful man. He is attacking the same person who made him the leader.
"Mujuru was civilised enough to allow a civilian leader to take over power after a liberation struggle. In other African countries, generals become leaders." Mugabe accused VP Mujuru of corruption, witchcraft and plotting a coup before firing her.
However, the former VP has repeatedly denied the accusations and demanded her day in court.