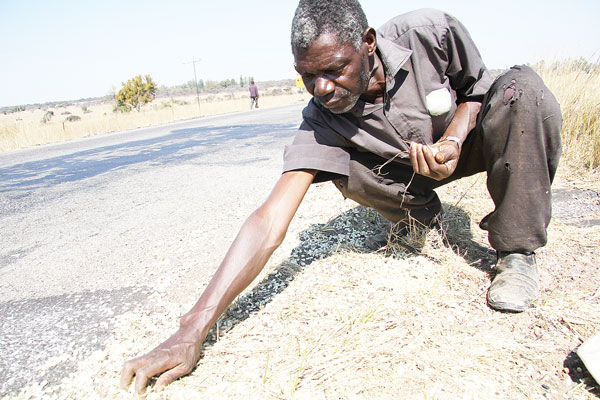 THE British and United States governments have jointly pledged to provide $43 million for food aid for 650 000 people during Zimbabwe's lean period.
BY RICHARD CHIDZA
The food relief programme, coordinated by Britain's Department for International Development (DFID) and the US Agency for International Development (USAID), will be implemented in the form of mobile cash transfers as well as direct food handouts targeting 650 000 people in 29 food-insecure districts.
Speaking at the programme launch in Harare yesterday, USAID mission director Stephanie Funk said it was important for partners to find lasting solutions to the problem of hunger by addressing the "root cause".
"Since 2002, we have provided more than $1 billion in humanitarian assistance to millions of vulnerable Zimbabweans. USAID is providing $27 million to meet immediate food security needs of hundreds of thousands of rural Zimbabweans," she said.
"However, while recognising that there is need for this type of assistance, humanitarian assistance alone is not enough. We need to address the root cause of poverty and hunger. USAID puts great emphasis and investment in promoting agriculture and improved livelihoods opportunities."
The lean season traditionally runs from October to March, when households would have exhausted grain reserves from the previous harvest.
DFID's head in Harare Annabel Gerry warned of more severe food shortages in the coming year given the development of the El Nino phenomenon that causes drought across the region.
"DFID's first responsibility will always be to protect vulnerable people from shocks and it is, therefore, critical that we are able to contribute towards this assistance.
"Through a mixed food security intervention, DFID providing cash transfers, USAID providing a combination of cash transfers of $25 per month for the next six months and commodities and playing a key co-ordination function, some of the most vulnerable households across Zimbabwe will be supported through the difficult months ahead under the programmes," she said.
"This will be provided through working with a non-governmental organisation consortium led by CARE International and working closely with the district food and nutrition committees. The UK will provide $16 million as unconditional cash transfers to 67 000 households benefiting about 336 000 vulnerable women, girls, boys and men."
World Food Programme (WFP) country representative and director Eddie Rowe said: "With this year's contributions, WFP was able to support and assist 19 600 households, who participated in the creation and rehabilitation of over 100 productive assets and 10 chronically food-insecure districts and would be able to extend food assistance to
220 000 beneficiaries in seven most food-insecure districts from September to March next year."
Rowe said WFP was finalising a country strategic plan (2016-2020) to shift focus from "transactional arrangements to a more transformational relationship, where WFP and partners bring complementary resources to address food insecurity and contribute towards resilience building".