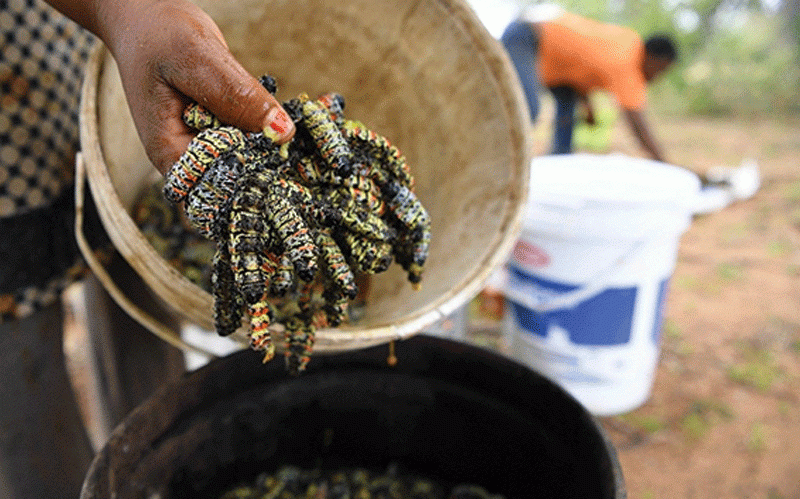 THE anticipated erratic below-normal rainfall season is expected to affect production of mopane worms in the upcoming 2023/24 summer season, a new report has shown.
The mopane worm is a traditional local delicacy which has over the years become a source of protein and extra income for hundreds of communal farmers mainly in the Matabeleland and Midlands regions.
"From October 2023 to January 2024, poor households will likely begin earning income from agricultural labour opportunities such as land preparation and planting as the 2023/24 rainy season begins. However, the likely erratic and below-average rainfall due to El Niño is expected to limit income-earning opportunities as better-off households are likely to reduce the area planted to limit anticipated losses," said the United States Agency for International Development (USAID) in its September 2023 food security update.
"Poor households are likely to continue trying to expand other available sources of income through non-agricultural labour opportunities, petty trade, the production and sale of vegetables and the sale of goats and chickens to earn income for market purchases."
The US agency said poor households with access to labour opportunities in informal artisanal mining would likely increase their engagement to earn income, while households with family members abroad or in urban areas would turn to remittances.
"The anticipated erratic and below-normal rainy season will likely limit the availability, harvesting, consumption and sale of wild products such as fruits, wild vegetables, Mopane worms, fish and grass," USAID noted.
The local currency has lost over 18% of its value since the general elections held on August 23 and 24, 2023, reaching a value of US$1:ZWL$5 466,74 as of Tuesday morning.
Resultantly, some basic food commodity Zimdollar prices increased by about 20% in September compared to August, according to the US agency.
"The official and parallel market exchange rate increases follow nearly two months of decline and relative stability. At the end of September, the ZWL traded at ZWL$5 383 at the interbank rate and nearly ZWL$7 000 ZWL per USD on the parallel market.
"However, US$ and ZAR (South African rand) prices in the informal markets remain stable, and these markets are the main source of goods for most households."
Despite the increase in some basic commodities, staple grain prices were expected to increase seasonally as demand increases through the lean season, especially in deficit-producing areas.
Related Topics