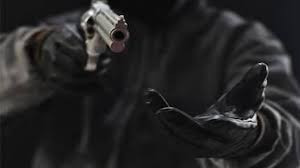 ARMED robbers on Tuesday launched a pre-dawn assault and robbed the home of a social worker who is the custodian of proceeds from a Beitbridge residents crowd-fund initiative to buy back the home of a family taken over by a loan shark.
Babongile Gora and her family were robbed of R25 200, US$1 110, 10 mobile phones and a laptop by the gunmen who broke in through the back door at 3am. The US$3 000 raised by the crowd fund is safe.
Gora who is a newscaster and reporter of Lotsha FM, a Beitbridge community radio station, was clapped several times in the robbery episode that lasted close to 15 minutes, according to her husband Claude who could only watch at gunpoint.
Babongile and Claude Goraalso own Safe Haven, a shelter for abused children.
Beitbridge Police District commander Chief Superintendent Tichaona Nyongo referred questions to Beitbridge Urban police head Chief Inspector Mariya who referred back to Nyongo.
Claude said he was awake at about 0230 hours when he heard a loud bang as the robber entered through the kitchen door.
Surprisingly their dogs had been scared into the next home along Acacia Drive, in Beitbridge's most secluded area where police visibility is rare and spread far apart.
"I then heard them force open my younger brother Morgan's door and they robbed him of his US$1 000 and mobile phones including one belonging to his wife. Our door was not closed so I rushed and tried to close but they were already on it," he said.
He yielded after even pushing his refrigerator across to block them.
But outnumbered they stormed in and demanded cash.
Thy helped themselves to R20 000 which was in a drawer and another R5 000 that was on top of a dressing cabinet.
"I told them its all we had and with the gun pointed on his head one of the robbers went to Babongile demanding more money. They clapped her several times but failed to getanything from drawers they ransacked," he said.
Claude counted three suspects who never even bothered wearing mask.
The left briefly and went to a third bedroom where they robbed Wilson Vengesai and his wife of $110 and R200 and two mobile phones.
"I heard them coming back and demanded more money. It is when I suspected they had information my wife was theone keeping the crowd fund because he came bellowing and sayinghe wanted more money," said Claude.
The robbers then force-marched Babongike and two other women away and dumbed them a few yards away as they walked away into the dark towards the Limpopo River.
Claude drove to the police station where he complained about the hostility of those on duty and he ended reporting the matter at the house of another policeman.
"They arrived late and did not even venture to the robbers escape route," said Claude.
A number of Beitbridge residents yesterday reacted angrily to lack of urgency displayed by police demanded increased patrols.
There are spaces in Beibridge where it is not possible to see a policeman.
Related Topics