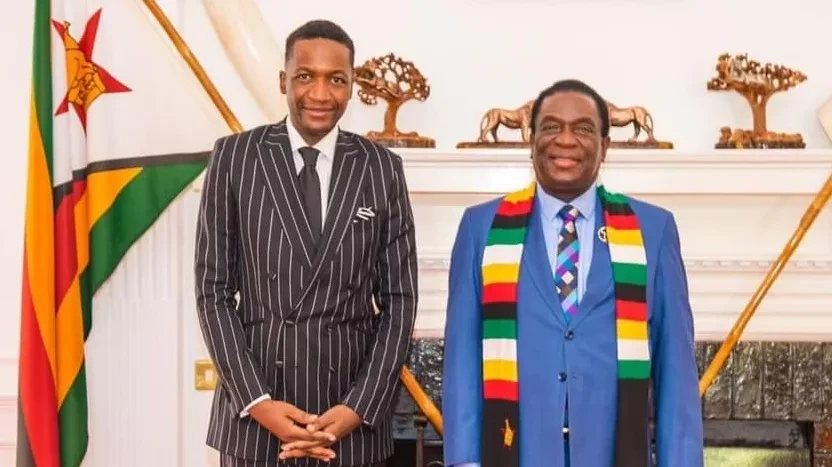 PRESIDENT Emmerson Mnangagwa's ambassador-at-large, Uebert Madzanire, alias Uebert Angel has told his followers to attack individuals who accuse him of gold smuggling and money laundering, following an exposé by Qatar-based international news channel, Al Jazeera.
Angel, who was featured in an Al Jazeera documentary Gold Mafia: The Laundry Service's first of four episodes as one of the key figures in analleged criminal underworld, released a long-winding statement on Saturday last week dismissing his purported involvement, while threatening any journalist who writes about the Al Jazeera allegations.
He, however, appears in the documentary confidently telling Al Jazeera undercover reporters how he could facilitate the criminal activities.
In his weekend statement, Angel said he knew from the word go that the Al Jazeera reporters were up to no good.
Presidential spokesperson George Charamba on Wednesday also threatened local media against reporting on the Al Jazeera documentary. The documentary's episode 2 premiered yesterday on the news channel's website.
The second episode is set to be aired today.
Al Jazeera's investigation shows that the businessman's web of crime allegedly extends far beyond that to an elaborate money laundering and gold smuggling scheme that helps him hide millions of dollars of unaccounted for cash.
Citizens Coalition for Change (CCC) yesterday challenged State institutions to investigate the allegations following the gold smuggling and money-laundering claims.
Speaking during a Press conference yesterday, CCC deputy spokesperson Gift Siziba said corruption was the major stumbling block preventing the country's economy from blossoming.
"It is now time in our respective view as a movement that instead of persecuting journalists, instead of politicking the State institution must be involved and they must be able to answer the citizens of this country and give a statement in terms of what has been done thus far in terms of ensuring that what has been alleged is being resolved and being dealt with," Siziba said.
"This in our view has a bearing on the confidence deficit that our country has been grappling with in terms of its economic performance and therefore an answer, direction and of course an explanation of the processes is very important if we are to deal with issues of confidence in our economy."
Recently, Reserve Bank of Zimbabwe governor John Mangudya dismissed the documentary as a smear campaign following claims that the apex bank was being abused in shady dealings.
Mangudya described the claims as outrageous.
"It is particularly strange that the reports claim that 'through the bank, government is using illicit ways as a scheme to bust international sanctions placed on political leaders and government entities," Mangudya said in a statement.
"The bank is not a sanctioned entity, and the cited individuals are not sanctioned persons either. There are no sanctions on Zimbabwean exports and imports, including trade in gold, to warrant Zimbabwe to "circumvent international sanctions" through illicit trade in gold."
Related Topics