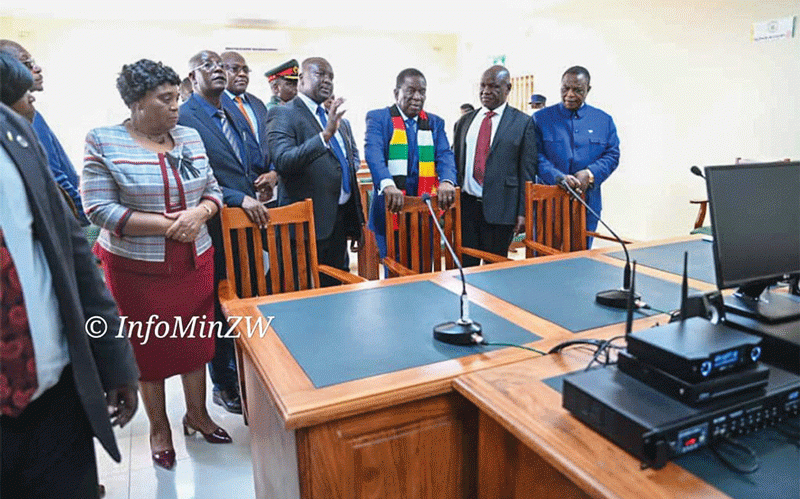 PRESIDENT Emmerson Mnangagwa has urged the Judiciary to decisively deal with perpetrators of political violence ahead of this year's harmonised polls.
His statement yesterday, while officially opening the Epworth Magistrates' Court in Harare, came after violence marred his Zanu PF party's primary elections held over the weekend.
Mnangagwa is yet to proclaim dates for the harmonised elections.
"You are aware the 2023 harmonised elections are fast approaching, I therefore, call upon all our people, including political parties, civil society organisations, and religious institutions to always promote peace," said Mnangagwa.
"Where we differ, violence must not be an answer or strategy. We are all Zimbabweans first and foremost, brothers and sisters and we must never inflict violence upon ourselves in the name of diverging views.
"Our courts, which are designated to deal with violence, are called upon to deal decisively without fear or favour with any cases, including those who seek to incite or instigate disorder, mayhem and chaos."
Civil society organisations have since red-flagged the forthcoming polls as already discredited following incidents of violence and intimidation countrywide during last year's by-elections and into this year.
Mnangagwa also urged the Judiciary to shun corruption to inspire confidence in people.
He added: "Under my administration, the integrity of the Judiciary remains key towards deepening constitutionalism, the rule of law and ensuring functional as well as productive communities. Hence, let us continue to foster a corrupt-free, proficient and effective judicial system, which we are all proud of.
"I urge judicial officers and legal practitioners, among others, to keep the halls of justice clean by shunning and resisting corruption in all facets. The offices of judges and magistrates are sacred. Integrity, fairness and probity of these officials should thus always inspire the confidence of our people."
Related Topics