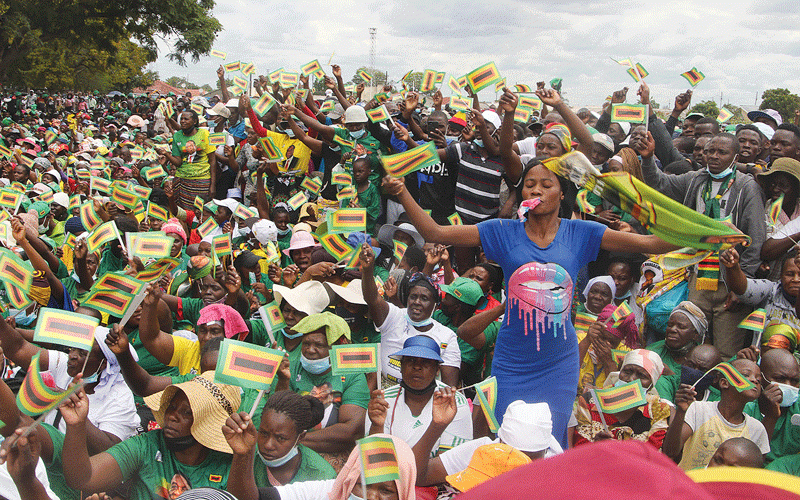 ZANU PF has reportedly tightened its grip on its rural strongholds by using traditional leaders and the military as barriers against the opposition seeking to penetrate rural areas, a latest study has shown.
Research by the Zimbabwe Democracy Institute (ZDI) shows that 76% of the respondents viewed rural constituencies as inaccessible to the opposition and other civil society organisations (CSOs) to conduct electoral-related programmes.
The report launched on Friday and titled Electoral impregnability of the rural constituencies in Zimbabwe, indicates that 82% of the respondents said traditional leaders were at the forefront of blocking opposition and CSOs from accessing rural constituencies.
The ZDI researchers interviewed 2000 people in selected rural constituencies to understand the nature and extent of rural vote capture by the security sector and Zanu PF ahead of this year's polls.
The majority of the respondents named the military as another major hindrance for the opposition and non-governmental organisations to access rural areas.
"Three key factors make up the political infrastructure set-up that perpetuates the impregnability of the rural constituency to democratic forces. These are a pervasive infrastructure for coercion of rivals, a pervasive infrastructure for perpetuating rural dependency on the ruling party and the poor investment in institutional sophistication by the opposition in particular and in general the democratic forces in the rural area," the study read.
"Together these three have buttressed Zanu PF's grip in the rural constituency and the military/Zanu PF conflation has dominated the three. The study concludes that the impregnability problem in the rural constituency of Zimbabwe exists.
"Due to historical ties traceable to the liberation war, traditional leadership comprising chiefs, headman and village heads in order of hierarchy, has been captured by the Zanu PF military elite to campaign for Zanu PF and facilitate the closure of their communities from opposition penetration."
The study also revealed rural impregnability was increased by fissures within Zanu PF structures and a general economic meltdown.
ZDI director Pedzisai Ruhanya said the Zanu PF fissures and the economic meltdown were not an automatic advantage for the opposition to gain victory in the upcoming election, but tactical approaches were required to challenge the Zanu PF hegemony.
Rural constituencies have largely been viewed as Zanu PF strongholds, where it has won with wide margins against the opposition in the past. But in its central committee report released in October last year, Zanu PF sounded alarmed by inroads made by the opposition Citizens Coalition for Change in the rural areas.
Zanu PF spokesperson Christopher Mutsvangwa said, "a polling booth is sacrosanct. Only the voter inside to make a decision completely unfettered. As neither the traditional leaders nor security aides go inside the polling booths with a voter, that insinuation has no basis at all."
Related Topics