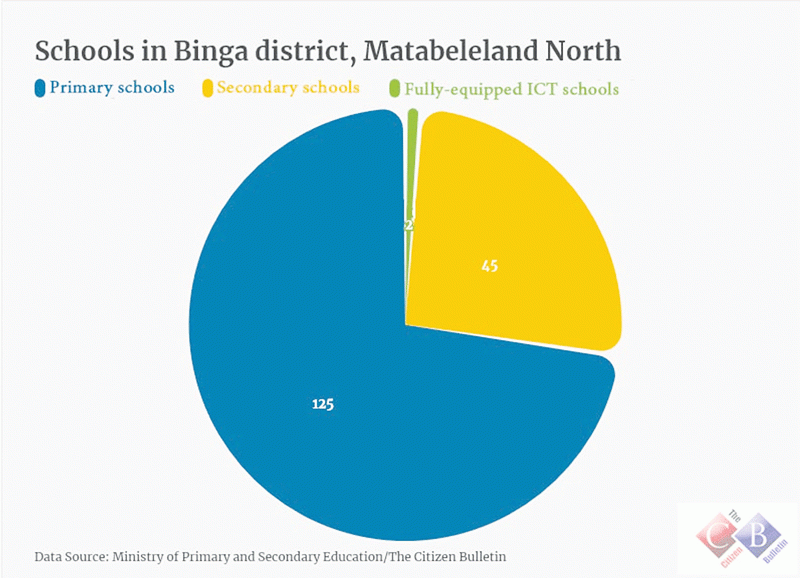 Antonia Sibanda (35), a villager from Luunga area in Binga, Matabeleland North province, is frustrated that the digital divide has seen learners from the district missing out on e-learning due to lack of an enabling telecommunications infrastructure.
"Learning is changing; people now talk about CALAs, but it's clear that our kids are not really engaged in these activities because of poor telecommunication connectivity," Sibanda says.
Sibanda was referring to the Continuous Assessment Learning Activities (CALA), a new curriculum assessment model that requires learners to conduct research-based activities to demonstrate their knowledge, understanding and proficiency in a specific subject.
Without information communication technologies (ICTs), learners in Luunga ward, situated close to the Nsengwa River, and which serves as the provincial border between Mashonaland West and Matabeleland North provinces, are lagging behind on CALA, a key component of the country's Education 5.0 strategy.
A contemporary ICT-based curriculum is incorporated into the current primary and secondary education strategy.
The Education 5.0 approach combines research, teaching, community service, innovation, and industrialisation in order to prepare learners to find solutions using local resources and enable development without importing expert knowledge.
Located 42km from Siabuwa community and 142km from Binga sistrict, Luunga ward is well served by Econet and NetOne networks.
However, the absence of cellphone repeaters, generally referred to as boosters, prevents locals from connecting with the outside world, resulting in an information gap between rural and urban learners.
"The ministry in charge of ICTs must have travelled around the nation to ensure that every village is networked and connected," Sibanda says.
In order to understand the causes of the digital divide in e-learning, The Citizen Bulletin conducted community listening sessions.
The newsroom learnt that there is a lack of ICT infrastructure in the area and the wherewithal to invest in such by government authorities and big companies running telecommunications in the country.
Students in parts of Binga and other areas in Matabeleland North are falling behind due to a lack of ICT infrastructure for e-learning which forms part of the country's updated education curriculum.
Nkululeko Mlotshwa, a parent, says lack of ICT infrastructure contributes to poor standards of education in Binga and other parts of Matabeleland.
Lack of ICTs in local schools contributes to poor grades and general education standards, Mlotshwa says.
"It's nearly impossible to do CALA projects without ICTs, which is why learners score poor marks."
The use of technology is also inaccessible to parents who are supposed to assist their children with their CALA projects, says Mlotshwa.
A rural development expert, Trust Dhliwayo, says the Luunga community will be able to benefit from connectivity and participate in the global economy if there is deliberate investment in ICT infrastructure in marginalised areas such as Binga.
"Schools must be connected (to the internet) in order for them to provide quality education, but (in Binga) they are not, and that's unfortunate."
According to official data from the Primary and Secondary Education ministry, Binga district has 125 primary schools and 45 secondary schools.
Two of the schools have fully-equipped ICT centres. These are Binga High School and Bunsiwa Primary School, which received support to set up e-learning infrastructure from NetOne, a State-owned telecommunications company.
Other schools have computers, but do not have internet connection.
In Binga, only two schools are fully equipped for e-learning.
Our recent story, which is part of the State of Education in Matabeleland reporting series supported by the Pulitzer Centre, uncovered the challenges faced by underserved schools across Matabeleland.
Villagers affected by the connectivity issues believe the central government deliberately sidelines them.
Zimbabwe has a centralised system of government that relies mostly on a top-down approach to local development.
Dubeko Ndlovu, a villager, says they are tired of false promises from central government officials.
Ndlovu says politicians often make promises to connect Binga to the outside world during elections, but fail to deliver once elected into public office.
"Last year, there was a by-election and the President (Emmerson Mnangagwa) came here with his entourage of ministers," Ndlovu says.
"He later came back again and people reported these issues, for instance to the ruling party candidate anticipating that his closeness to the centre of power would help. However, nothing was done."
According to data released by the Zimbabwe School Examinations Council (Zimsec), the majority of schools in Binga recorded a zero percent pass rate in the final 2022 Ordinary Level examinations.
Schools that recorded a zero percent pass rate include Chisiza, Gwatagwata, Manyanda, Katete, Lubanda, Saba, Zambezi, and Zumanana.
Secondary schools in Simbala, Msenampongo, Sinampande, Siabindi, Nakaluba, Chasamba, Muchesu, Sinakomba, Masibitha, and Ntivule also did not record any passes either.
Unions representing teachers said the state of education in Binga was not surprising because schools in that area lack basic infrastructure and ICT resources.
"Seventy-five percent of elementary schools and 65% of secondary schools in rural areas lack electricity or other forms of backup power at a time when the government has made computers a requirement for the new curriculum," Takavafira Zhou, president of the Progressive Teachers Union of Zimbabwe, says.
He adds: "Essentially, requiring ICT in schools when institutions have no intention of putting it into practice or making it a reality is a perverse strategy."
According to Elvis Makoni, an assistant researcher in ICT and Rural Development at Campaigning for Female Education, the central government needs to ensure network coverage in all rural areas to promote e-learning.
According to the Postal and Telecommunications Regulatory Authority of Zimbabwe, more than 1 000 computer laboratories were constructed in educational institutions countrywide in 2022.
Wonder Mutale, one of the village heads in Luunga ward is pessimistic and feels Binga is far from adopting e-learning.
"We have tried for years to interact with government representatives, especially when they come to Siabuwa or Binga Centre. However, we are always told that everything will be resolved and it ends there," Mutale says.
Source: The Citizen Bulletin - This story is part of a reporting series supported by the Pulitzer Centre.
Related Topics