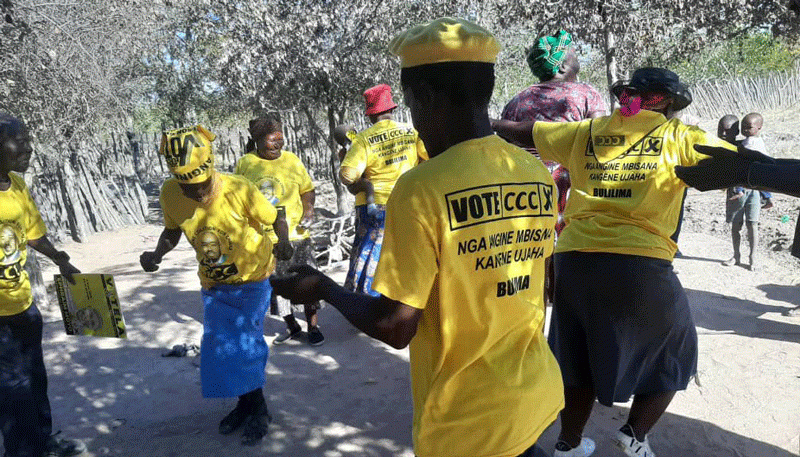 THE opposition Citizens Coalition for Change (CCC) has blamed lack of police presence at their rallies as a major reason for electoral violence.
This comes after their campaign rallies that were held in Chivi and Gokwe-Nembudziya over the weekend were marred by politically-motivated violence.
The CCC party claims that the violence began after their meetings were disrupted by Zanu PF supporters, while the ruling party also claims that its supporters were beaten up by CCC activists in Chivi and Gokwe-Nembudziya.
"We have written to the police, actually we will be submitting our letter to the Commissioner-General of Police (Godwin Matanga) to ensure that people are safe. Lack of police presence at rallies is the one that is causing this inter-party violence. We believe that police must be able to maintain law and order without fear or favour," CCC deputy spokesperson Gift Siziba told NewsDay yesterday.
"Zanu PF is a violent party. They resort to intimidation as a tool to mobilise votes. We have continued to urge our supporters to remain peaceful in the face of State-sponsored and Zanu PF-co-ordinated violence. We are receiving a lot of support from the rural areas and now Zanu PF is panicking.
"We were in Gokwe with President Nelson Chamisa, and the roads there are terrible. The road to Gokwe-Nembudziya road must be declared a national disaster and the State must be able to fund that road. So people are tired and they want new leadership. It is self-evident that Zanu PF is the one which attacked people. It uses violence and terror. We have no weapons or tools besides love and peace. We are always on the receiving end of Zanu PF-sponsored violence."
CCC spokesperson Fadzayi Mahere yesterday tweeted: "The violence was caused and committed by Zanu PF thugs who trespassed at the CCC rally. At least five of our security personnel were injured trying to keep the peace."
National police spokesperson Assistant Commissioner Paul Nyathi said: "Police confirms that investigations are being conducted in connection with political violence incidents which occurred at Nembudziya Government High School grounds on February 12, 2023. One suspect has been arrested as the investigations continue. Police is also investigating the circumstances which led to public violence during a CCC rally at Chivi Open Grounds, Masvingo province, on February 12, 2023."
Nyathi said more details would be released in due course.
Meanwhile, Zanu PF alleged that its supporters were the victims in Chivi and Gokwe-Nembudziya.
It said opposition activists attacked its supporters who were on their way to a voter registration and mobilisation awareness event at Mtora Growth Point in Gokwe North.
Zanu PF director for information Tafadzwa Mugwadi said: "We condemn in strongest terms the violence meted against our supporters in Gokwe by Chamisa's CCC hooligans. That has no place in our society. President Emmerson Mnangagwa has been very loud and clear against all manner of violence as a means of soliciting for political support. We appeal to law enforcement agents to deal with these culprits decisively. The violent DNA of CCC has no place in our society at all. We pray for quick recovery of our leaders needlessly victimised by CCC hooligans."
Sources told NewsDay that in Chivi, Zanu PF supporters came in a truck and hurling throwing stones at CCC supporters.
"They came in a truck playing loud music and they were trying to disrupt our rally. They then proceeded to throw stones. Fortunately, no one was injured," the source said.
Related Topics