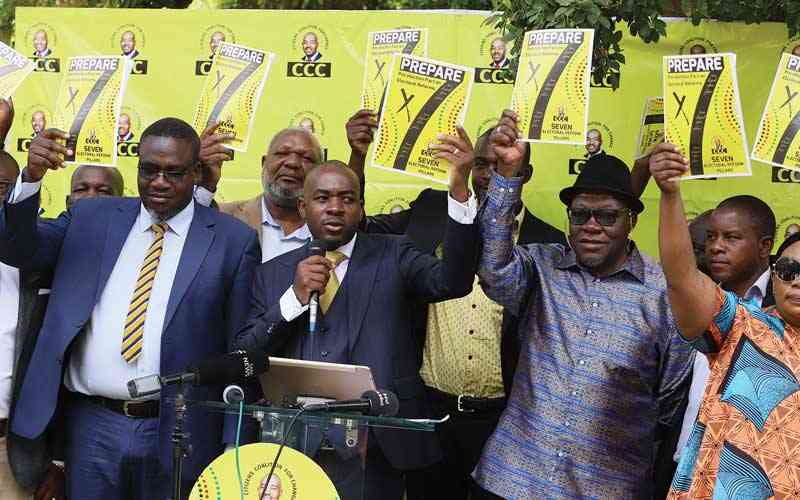 THE opposition Citizens Coalition for Change (CCC) has revealed that it will not hold primary elections to select candidates for this year's polls.
The decision will undoubtedly set tongues wagging, especially in Zanu PF corridors where they have been demanding that the opposition party should create structures, go for congress and unveil its constitution or else be barred from contesting in the coming general elections.
CCC deputy spokesperson Felix Magalela Sibanda told NewsDay that instead, the opposition, led by Nelson Chamisa, will have a convergence at different levels to allow its members to decide who will represent them in the forthcoming elections.
"We are not going to have primary elections, candidates will be selected by local people in that constituency or ward. We are going to have a convergence where local people are going to choose their representatives. We are going to call everybody who believes in the rules of the CCC, so that they select their suitable leaders through consensus. The local leaders won't be imposed by external forces," he said.
The revelation comes as some aspiring candidates have reportedly already imposed themselves in constituencies.
In Norton, Richard Tsvangirayi, the son of the late MDC founder Morgan Tsvangirai, has since imposed himself and has begun campaigning.
Tsvangirai Jnr is already circulating posters on WhatsApp and Twitter, seemingly with the blessing of other party officials. After he formally announced his candidature on Twitter, CCC secretary for rural mobilisation Happymore Chidziva "blessed" his candidature and described him as a workaholic.
"We salute all young people who take an active role in the politics of the day, and for Richie, fight on brother, victory is certain," Chidziva said.
Another CCC activist Damison Damison has also imposed himself as CCC candidate for Epworth constituency.
"Yes, I am going to contest representing CCC in the forthcoming elections in Epworth constituency," he told NewsDay yesterday.
However, Sibanda said the party had not released any template for aspiring candidates.
"The party has not released the actual guidelines. So all those people who are campaigning, I wonder if they are CCC members because our members are disciplined," he said.
Related Topics